Awards & Accolades

1. U.S. Environmental Protection Agency (EPA) recognized 30 clean water and 25 drinking water infrastructure projects for excellence within the Clean Water State Revolving Fund (CWSRF) and Drinking Water State Revolving Fund (DWSRF) programs. Among those recognized is the innovative water reuse project being in the Town of Marana in Southern Arizona. This year's honored projects include large wastewater infrastructure upgrades, community driven green infrastructure development and the construction of new water treatment plants. Several projects also include lead service line replacement, furthering EPA's goals to protect human health under the Federal Lead Action Plan.
Groundbreakings
2. Verde at Cooley, a 23 acre, mixed-use development in Gilbert, is breaking ground. SB2-VB, LLC is the developer on the project. Work on the first phase of the development will carry on through the new year with an expected open in late 2020.
3. The Barrow Neurological Institute, a 130KSF, five story medical facility in downtown Phoenix, broke ground on Thursday. The expansion will include 30KSF of research space, increasing Barrow's laboratory capacity by 50 percent and is set to open in late 2020.
4. Culdesac Tempe, the country's first car-free neighborhood, has broken ground. The $140M, 16-acre project will include a residential neighborhood, retail, and flex-space. The developer, Culdesac, has been working closely with architect, Dan Parolek.
5. Center of Automotive Technology and Innovation, a 45KSF facility broke ground at Pima Community College. The facility is scheduled to be complete and operational for Spring 2021.
Completions
6. Concord General Contracting performed competitive bid services for Roosevelt Water Conservation District for their new Administration and Operations Complex. This was a highly anticipated project that required several years of planning within the District. The completed $12M facility is 24KSF. Adaptive Architects was the design firm for the project.
7. The City of Yuma will hold a ribbon-cutting and open house for its new Fleet Services facility, a 41KSF located at 265 W. 13th St.
8. Tempe's newest Fire Station, a $4.6M, 10KSF project, is coming to completion. The station boasts many health and safety features, including high-pressure ventilation, decontamination room, among others.
9. Waggin' Vineyard and Estate has opened near Round Mountain Park in Globe.
10. McCarthy Building Companies recently completed construction at Campo Bello Elementary School, with the replacement of buildings for PV Schools that included demolition of an old building and updating the remaining buildings to a state-of-the-art facility for learning. The $19M project includes 70KSF of new facilities including classrooms, a multi-purpose room/cafeteria, media center, special area classrooms (for vocal music, visual arts, band and strings), and building support areas. Orcutt Winslow served as the architect.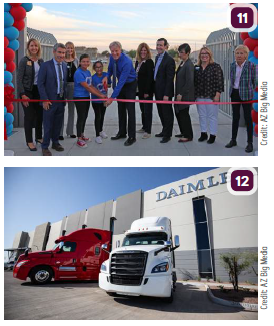 11. A ribbon cutting ceremony has been held for Urbix Resources' new headquarters, 3110 N. Greenfield Road, in the Falcon District of Mesa. The new 31KSF facility will allow the company to expand its state-of-the-art graphite processing.
12. Daimler Trucks North America LLC (DTNA) recently held a grand opening for its 10th parts distribution center (PDC), launched earlier this fall. Located in Goodyear, just outside of Phoenix, the 268KSF facility stocks more than 10,000 parts and serves over 130 DTNA dealers in the Southwest region.