Groundbreakings 


1. Sky Plus Hotels, an affiliate of SkyBridge Arizona, announced the development of a new dual brand, 127-room Wingate/Hawthorn Suites hotel at Phoenix-Mesa Gateway Airport. The Sky Plus Phoenix-Mesa Gateway Hotel will open sometime in the first quarter of 2022. 
2. Tower Capital arranged a $56M construction loan for The Village at Pioneer Park, a new 332-unit single-family rental community at 83rd Avenue and Olive being developed by The Empire Group. The Village at Pioneer Park is scheduled to be complete in 2022. 
3. The Gadsden Elementary School District recently broke ground on a 6.1KSF gymnasium for Rio Colorado Elementary School located at 1055 N. Main Street, Yuma. Pilkington Construction is the general contractor, and the project is expected to be done in June 2021. 
Progress Reports 
4. Construction is underway at ALMA 202, a three-story medical office building that will support the Banner Ocotillo Medical Center that is slated to open in November. Developer, Unbound Development is expected complete construction of ALMA 202 in August 2021. The facility will include infrastructure to accommodate the needs of a surgery and imaging center, amongst other medical exam and treatment spaces. Butler Design Group is the architect and Okland Construction is the general contractor. 
5. Construction is nearing completion on straightening the curve on north Willow Creek Road in Prescott. APS still needs to work on a large transmission line that crosses the road which will begin in the second week of November. The project is expected to be completed sometime in November. Chamberlain Development is the general contractor. 
Completions 
6. The joint venture team of Ryan Companies US, Inc., Cadence Living and a controlled affiliate of Starwood Capital Group announced the completion of Acoya Scottsdale at Troon, a 135-unit independent and assisted living development in North Scottsdale. The project received its certificate of occupancy nearly two weeks early and residents will begin moving in on November 2nd, 2020. 
7. Navajo Technical University recently opened their 20KSF Instructional Facility, the second building on their new Chinle campus, which is in the heart of the Navajo Nation. The two-story, modern facility contains seven classrooms, biology and chemistry labs, computer lab, library/media room, tutoring rooms, and a student den. NEZ/FCI Native American was the general contractor and Indigenous Design Studio was the architect.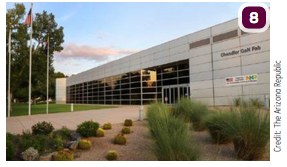 8. NXP Semiconductors recently completed a $100M facelift at a roughly 30-year-old advanced Gallium nitride factory in Chandler that will allow it to furnish replacement components for use in towers that can service 5G or fifth-generation cellphone communications. NXP received the green light this week to start shipping its first components.