Arizona Projects 10-04-19
Awards & Accolades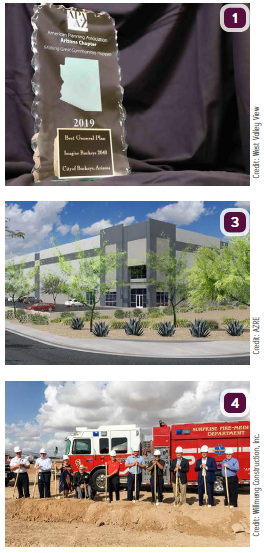 1. The City of Buckeye was recently honored for its forward thinking to meet future challenges with the development of its Imagine Buckeye 2040 General Plan. Through an extensive, citizen-driven effort spanning several years, the city adopted Imagine Buckeye 2040 as a blueprint for creating America's next great city.
Groundbreakings
2. The Phoenix Suns and Phoenix Mercury have begun construction on a 50KSF state-of-the-art private practice facility. Dick & Fritsche Design Group is the architect and AECOM Hunt is the general contractor.
3. Liberty Property Trust has broken ground simultaneously on two buildings at Liberty Riverside Center. The first building, 2323 S. 48th Avenue, will offer 123.6KSF of Class A industrial space, with the second, 2200 S. 48th Avenue, offering 223.9KSF. Construction is expected to be complete in early 2020.
4. Willmeng Construction Inc. recently broke ground on a 21KSF fire station for the City of Surprise. The new Fire Station 304 will be located at 163rd Avenue and San Ysidro Road. Perlman Architects is the design firm and construction is expected to be complete in fall 2020.
Progress Reports
5. Interstate 10 is now three lanes in each direction all the way between Tucson and Casa Grande thanks to investments by the Arizona Department of Transportation. The last four miles widened to six lanes is part of a $72M project nearing completion between Eloy and Picacho. It complements a $43M project that has widened 4 miles of I-10 between Earley Road and Interstate 8 in Casa Grande and replaced the I-10 bridges over Jimmie Kerr Boulevard to accommodate three lanes in each direction. Final work on both projects is scheduled for completion later this year.
Completions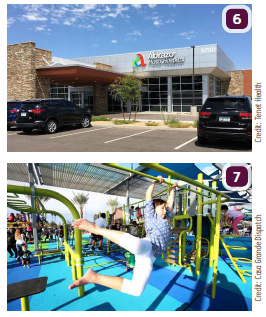 6. Abrazo Mesa Hospital opened its doors at 6 a.m. on October 1st.Located at 5750 E. Baseline Road, Abrazo Mesa Hospital is licensed for eight inpatient beds and offers 24-hour emergency care as well as the ability to perform surgical procedures with around-the-clock general surgery, hospitalist and emergency physician coverage.
7. The $8.6M newly upgraded Carr McNatt Park, which includes a water play area, playground equipment and other features, officially opened September 26th.