Arizona Projects 09-25-20
Awards & Accolades 

1. Engineering News-Record (ENR) Southwest selected the $275M, 670KSF Banner – University Medical Center tower and the Interstate 10 (I-10) interchange at Ina Road as the 2020 best Healthcare and Highway/Bridge projects. Both projects were completed by Sundt Construction, Inc. with DPR Construction partnering with them on the Banner project. 
2. Floor Associates received one of the most prestigious awards in landscape architecture – the Honor Award in Residential from the American Society of Landscape Architects, for their work on Optima Camelview in Scottsdale. The award will be presented during a virtual Professional Awards Ceremony later in the fall. 
Groundbreakings 
3. Project developers Barclay Group and W.M. Grace Companies joined with local dignitaries to break ground on 303 Logistics, a speculative, 349.7KSF Class A industrial building at the SWC of the Loop 303 and Glendale Avenue, Glendale. Completion is anticipated by Q2 2021. The general contractor is The Renaissance Companies and the architect is Butler Design Group. 
4. Lafferty Construction Co. has started building the 235-unit St. Ambrose Apartments at the SWC of Van Buren and 12th streets, Phoenix. The 129KSF project will include a four-story parking garage, pool, clubhouse, and weight room. 
Progress Reports 
5. Robert Porter Construction began structural upgrades to STK Steakhouse in Scottsdale. Work to be performed at this world-famous restaurant franchise will support the change of occupancy requirements for the expansion and tenant improvements that were previously underway. 
6. As site work continues to progress at Ambiente: A Landscape Hotel, a technically difficult phase of landscape architecture is now underway as the owner and developer, Two Sister Bosses, and landscape architect Krizan Associates, Inc. begins to reactivate the land's ancient waterway system to bring permanent flowing water to the prime three-acre property in Sedona. 
7. The University of Arizona's $56M Student Success District project, led by Sundt Construction, Inc. is expected to be completed by the end of 2021. The project includes renovations to sections of the school's main library and its science and engineering branches, and a full interior rework of the historic 1920s-era Bear Down Gymnasium. 
Completions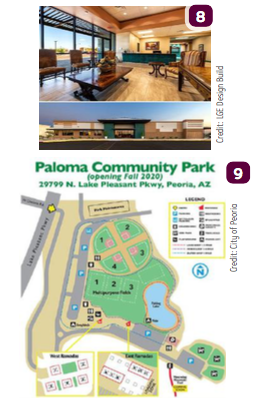 8. LGE Design Build completed construction on the 34.3KSF The Aces Gilbert Campus. Designed by LGE Design Group, the school, for kindergarten through twelfth grade students, is designed to feel like a nice house, so students can experience a warm friendly environment while at the same time learn how to respect and care for their shared space. 
9. The long-anticipated Paloma Community Park, located at Dixiletta Drive and Lake Pleasant Parkway, Peoria, will open to the public on Saturday, October 3rd. The 85 acres of initial park development include multipurpose fields, a fishing lake, inclusive playground features and splash pad, dog parks, multipurpose sport fields and lighted pickleball courts. 
10. The Premiere at Eastmark, a new $50M luxury apartment community developed by PCS Development and Route 2 Construction, recently opened in the master planned community of Eastmark at 9410 E Ray Road, Mesa.  
11. A $100M expansion at NXP Semiconductor's facility in Chandler to manufacture 5G cellphone network transistors and RF power amplifiers is now operational. A ceremony to officially unveil the expansion will be streamed online beginning at 8 a.m. on September 29th.