Awards & Accolades 


1. Engineering News-Record (ENR) Southwest selected Valley Metro's Gilbert Road Light Rail extension as the best project in its highway/bridges category. Stacy and Witbeck was the design firm and Sundt Construction was the general contractor on the project. 
Groundbreakings 
2. The 320-acre Legacy Sports Park and entertainment center will break ground in Mesa today. Icon Architectural Group is the design firm and Waltz Construction is the general contractor.  
3. Tucson issued a $58.6M building permit for Northwest Healthcare's 51-bed hospital and related services at Old Spanish Trail and Houghton Road with an emergency room, labor and delivery services, orthopedics and cardiology. The project is expected to open by 2021. 
4. Banyan Residential has announced the start of construction on their 223 market rate apartment units at 5321 E. Washington in Phoenix. Construction will be led by general contractor, Hardison Downey. Banyan anticipates delivering first units for occupancy in late 2021. The architect is CCBG. 
5. Attendees gathered outside of Intermountain Centers for a groundbreaking ceremony for the new Intermountain Sensory Park, in Tucson, on September 15th. The expected finish date is yet to be determined due to funding but will be constructed as funds become available. 
Progress Reports 
6. Improvements to Rittenhouse Road, a partnership between Maricopa County and Queen Creek, continue as one of the town's major roadways is widened to two lanes in each direction. In order to widen Rittenhouse Road, the bridge over the Queen Creek Wash had to be removed and reconstructed. The improvements, that stretch from Riggs Road to 213th Street are anticipated to be complete by the end of 2020.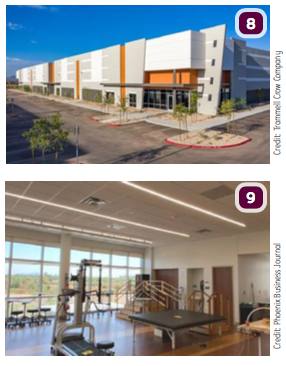 7. Brookfield Residential is unveiling its highly anticipated Alamar master-planned community in Avondale on Saturday, October 10th. Alamar will feature a total 3,695 homes once all phases are complete. However, the first phase of development will include 461 homesites developed within 6 unique neighborhoods. 
Completions 
8. Trammell Crow Company and its partner, CBRE U.S. Development Partners 5 announce the completion of Park Aldea, a 356KSF four-building industrial development in at 99th Avenue and Cardinals Way, Phoenix. Green Worldwide signed a lease to occupy the entirety of Building C, which spans 87.3KSF. 
9. A joint venture between Phoenix-based Banner Health and Select Medical Holdings Corp recently opened the $27.8M, 56-bed Banner Rehabilitation Hospital West at 12740 N. Plaza Del Rio Boulevard, Peoria. The architect was GWG3 and the general contractor was Brasfield & Gorrie LLC. 
10. The Pima County Department of Transportation, along with the Regional Transportation Authority announced the completion of the final phase of the $26.2M Valencia Road Corridor project. The project improved 2.85 miles of Valencia Road, widened the existing roadway from two lanes to four lanes, added drainage improvements and a raised and landscaped center median.