Groundbreakings 


1. The Douglas Allred Company recently broke ground on two additional office buildings at their Park Place Development on Price Corridor. Both three-story buildings will be 150KSF and located on the NEC of Price and Willis roads. The architect is Balmer Architectural Group and the general contractor is Willmeng. 
2. The Kansas City Royals broke ground July 9th on The Fountains at Surprise Center, their new four-story, 47-unit player housing complex, just south of a similar facility for the Texas Rangers, which opened up late last year. The project is expected to be completed by mid-2021. 
3. Sequoia Pathway Academy recently broke ground on a 7KSF classroom addition in Maricopa, with hopes of having it open by the beginning of second semester. The new space will include three science labs, a computer lab, art room and a music room as well as traditional classrooms for the secondary school. 
Progress Reports 
4. The end of the line is nearing for the roundabouts at the Interstate 17 interchange at Happy Valley Road in north Phoenix. The Arizona Department of Transportation will soon replace the roundabouts as part of an ongoing $50M project to add the state's first full diverging diamond interchange. A traffic switch away from the roundabouts is expected to take place in the coming weeks. The project is scheduled for completion this fall. 
5. The Canopy by Hilton Scottsdale Old Town, a seven-story, 177-room hotel at the NEC of First Street and Marshall Way, is expected to open its doors in late September. Ryan Cos. is the general contractor on the project, while interior design was done by Studio 11 Design. 
6. The Premier at Eastmark, a $50M, 216-unit luxury apartment community in Mesa, is expected to be completed in August after breaking ground in late July 2019. The project is a joint venture between PCS Development and Route 2 Construction. 
Completions 
7. Developer and builder, Ryan Companies along with joint venture partner University Realty LLC, announced the completion of the 84 percent preleased, six-story, multi-tenant office building, 777 Tower at Novus Innovation Corridor. The 160KSF building features an open floor plan with penthouse office space, 8KSF of ground floor retail and a public urban plaza. DAVIS was the architect. 
8. Mercy Medical Commons II, a new state-of-the-art, Class A medical office building at 3591 S. Mercy Road, has been completed. The CORE Institute has leased nearly half of the new building from owner, MedProperties. Mercy Medical Commons II was designed by Ware Malcomb and constructed by Balfour Beatty.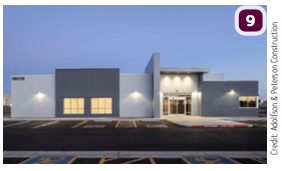 9. Adolfson & Peterson Construction recently completed the Clubs on Grand Recreation in partnership with CCBG Architects, Inc. Clubs on Grand is the renovation of 10.6KSF and addition of 6KSF recreation space. The new recreation center encompasses a variety of mixed-use studios including photography, painting, ceramics, and jewelry. In addition, it includes a greenhouse, garden, two workrooms, warming kitchen, a large meeting space and site improvements.