Groundbreakings 


1. Pacific Hospitality Group and Mortenson recently broke ground on a 238-room, 8-story Hyatt Place hotel in downtown Phoenix. The project is expected to be completed in September 2021. Allen+Philp Partners is the architect. 
2. FatCats Entertainment has started construction on their new ground up, 61KSF family entertainment center at 20660 E. Riggs Road, Queen Creek. The $11M project will have 8 theaters, 20 bowling lanes, arcade, nine-hole glow in the dark mini golf, party room, virtual reality area, bar and restaurant. TK Architects is the design firm and A.R. Mays Construction is the general contractor. 
3. The partnership of Davcon Aviation and Mesa Hangar has started construction on nearly 400KSF of hangar and office space at Mesa Falcon Field Airport. The $60M project is being managed by GCON, Inc. 
Progress Reports 
4. Lincoln Property Company (LPC) and Harvard Investments have placed the final beam at Union Building One – the first of four Class A office buildings planned at the confluence of Tempe, Scottsdale and Mesa. When complete, Building One will total 238.3KSF in four stories, with an adjacent four-level parking structure. DAVIS is the project architect and Wespac is the general contractor. 
5. Gilbane Building Company practices safe social distancing as construction work continues at the Blackwater Community School on the Gila River Indian Community. The Design-Build team of Breckenridge, Rytan, and Gilbane are building the new school, in collaboration with ADM Group as the bridging architect. Estimated completion date is July 2021. 
6. The first phase of the $2B megadevelopment, The Palmeraie, being developed by Five Star Development, is entering the home-stretch of completion. The centerpiece of the project, The Ritz-Carlton, Paradise Valley, will be ready to open before the year's end and features 215 hotel rooms with private entrances, detached casitas, bungalows and oversized suites spread across 20 verdant acres. 
7. Creighton University's new $100M, 180KSF Health Sciences – Phoenix Campus at Park Central reached a major construction milestone earlier this month as work continues on-schedule on the new building. The construction team for the building, led by developer Plaza Companies and general contractor Okland Construction, marked the "topping out" of the new building in mid-June. The project is expected to be complete in 2021. 
8. Fairlife LLC has announced leadership of their 300KSF production and distribution facility being constructed in Goodyear. The more than $200M project at Cotton Lane and Thomas Road, is set to open this winter. 
9. The Pier 202 development, which is currently under construction and includes 87 apartment units, 22 retail suites and a restaurant on the first floor, is set to be completed in a couple of years. Developer Springbrook SGC chose City Electric Supply Chandler to supply electric parts for the development. 
10. Construction on the new Eloy Police Department building currently under construction is still on track to be fully completed by May 2021.  
Completions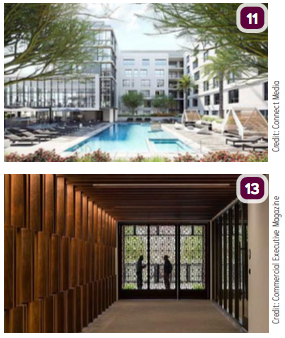 11. LMC opened Vitri, a 300-unit contemporary mixed-use apartment community at 15125 N. Scottsdale Road. The mid-rise project also includes 38KSF of ground-level retail space and overlooks Scottsdale Quarter. 
12. ADOT's $6.5M answer to combating dangerous dust storms on a section of Interstate 10 is now operational after a monthlong trial. A dust detection system now lines 10 miles of interstate between Picacho Peak and Eloy — mileposts 209 to 219. 
13. Studio Ma worked with George Oliver Companies and general contractor RSG Builders on the extensive renovation of CASA in Phoenix, which transforms a 1989 Spanish-style office structure into a next-generation office experience featuring a variety of creative workspaces — and packed with attractive wellness and personal-development amenities.