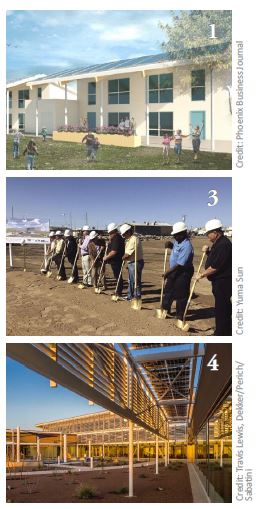 Giving Back
1. Devereux is breaking ground next week on a therapeutic treatment facility that focused on youth under the age of 12 healing from severe abuse. The residential treatment center is on a 10-acre campus where youth live and attend school while receiving treatment for emotional, mental, behavioral and substance abuse challenges. Architectural Resource Team Inc. is the project architect and Delta Construction is the general contractor hired to replace and expand the 48-bed facility to accommodate up to 52 youth.
Groundbreakings
2. Orbital ATK will hold a groundbreaking for its Chandler facility expansion on April 25.
3. For years, Yuma's fleet maintenance employees have worked outside in the heat because modern trucks don't fit in the existing shop. The new shop will be located at the SWC of 1st Avenue and 13th Street. It will replace the current facility south of 14th Street. The 40KSF pre-manufactured steel building is designed to "provide an energy-efficient, safe and effective workspace for the mechanics, staff and customers of Fleet Maintenance Services," according to a city announcement.
Completions
4. The Indian Health Service and the Cocopah and Quechan Tribes celebrated the opening of Fort Yuma Health Care Center on April 11. The 76KSF facility serves the two tribes located along the Colorado River in Arizona and California. The health care center, at full capacity, will staff 200 employees and provide primary care, dental and eye care, diagnostic imaging and laboratory, pharmacy, behavioral health, community outreach, diabetes treatment and wellness services.