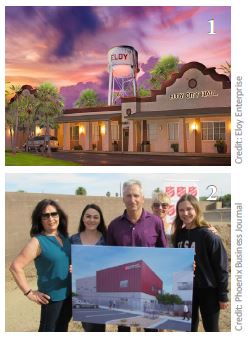 Groundbreakings
1. The Eloy City Council approved a guaranteed maximum price of slightly more than $7.6M to build the new City Hall, and the project is scheduled for a groundbreaking ceremony April 19. Total budget is $9.9M, and the builder is CORE Construction of Phoenix. Completion is targeted for February.
2. The Salvation Army Metro Phoenix broke ground on the $3.5M Mike Michaels Activity Center. The center will serve multiple functions in providing an outlet for play for families as well as helping them with short- and long-term housing and economic goals.
Progress Reports
3. After completing renovations and upgrades at its Scottsdale 101 location, and with similar work nearly complete at Chandler Fashion and Arrowhead, Harkins Theaters has announced it will spend a total of $150M to upgrade amenities and features at all 34 of its locations. Planned improvements include leather reclining seats, larger screens and in-lobby bars. Theaters will remain open during construction, and the entire project will be complete within two years.