Groundbreakings

1. The Arizona Department of Transportation will start construction this month on a 10-mile section of North Oracle road that will bring new pavement and other improvements to the busy corridor. The $34M project will include improvements like new LED lighting, improved drainage, sidewalks, turn lanes and more. ADOT did the design in-house and Granite Construction, Inc. is the general contractor.
2. MC Companies broke ground this week at The Place at Silverbell Gateway, a 300-unit luxury apartment home community at 7430 N. Silverbell Road in Marana. Dean Alan Architects is the design firm and Clark Wayland is the general contractor for the project.
3. Urban Air has started construction on a new 50KSF indoor adventure park located at E. Williams Field Road and S. Santan Village Parkway, in the SanTan Village Shopping Center, Gilbert. The park is anticipated to open before the end of the year. The two-story venue will feature wall-to-wall trampolines, dodgeball courts, electric Go-Karting, obstacle courses, tube playgrounds with multi-level climbing ropes and twisting tubes and more.
Progress Reports
4. The Arizona Department of Transportation continues work on a $4.2M landslide stabilization project around State Route 87. The project is expected to last through the end of May. The work includes cleaning the existing ditch above the northbound cut slope, maintaining, adding, and resetting the placement of large boulders to help guard against erosion, excavating landslide material next to the northbound roadway, installing new ditches in the new and existing cut slopes and repairing existing pavement as needed.
Completions
5. McShane Construction Company announced the completion of Springs at Red Mountain, a 192-unit garden-style apartment community in Mesa. Phillips Partnership was the architect of record and Continental Properties is the owner of the project.
6. The State of Arizona, Pinal County, City of Casa Grande and Central Arizona College have opened a new 13KSF training center that will prepare Arizonans for jobs in high-tech industries. The state-of-the-art facility, named "Drive48," features cutting-edge robots and multiple hands-on training rooms where technicians will train for jobs in advanced manufacturing. Other partners involved in designing, constructing, and outfitting the facility include Architekton, McCarthy Building Companies, and Design Systems, Inc.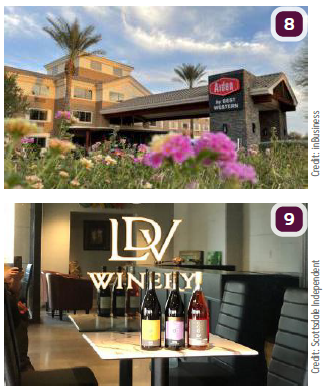 7. FREIGHT Tempe, an 11-unit shipping container multifamily project near the Arizona State University campus, recently completed construction. The project team consisted of Local Studio (design-build services) and Berghoff Design Group (landscape architectural services).
8. Best Western® Hotels & Resorts announced the opening of its newest 164-room Aiden boutique hotel in Old Town Scottsdale. The project includes premium poolside suites with private patios, onsite Starbucks store, 24-hour lobby and more.
9. LDV Winery owners Curt Dunham and Peggy Fiandaca recently unveiled the grand re-opening of their remodeled LDV Winery Tasting Room at 7134 E. Stetson Drive in Old Town Scottsdale. The new layout includes indoor and patio seating.