Groundbreakings

1. LGE Design Build, in partnership with Clarius Partners LLC, have broken ground on the 791KSF The HUB at Goodyear, 305 S. Bullard Ave. The HUB at Goodyear is being developed on a fully speculative basis. The development team has named JLL as the project's exclusive leasing broker.
2. The Pine-Strawberry Fire District recently celebrated breaking ground on new crew quarters at the Strawberry Fire Station on March 4. Construction of the 1,335-square-foot crew quarters should be done by the end of June. The general contractor is Barry Hoff Contracting.
3. Live Forward Ventures and Brokers Hub Realty announced the development of Verde Park Condominiums, a new community located in the Historic Garfield District. The project broke ground on March 14 and is scheduled to open in late 2019.
4. A ground-breaking ceremony for a new Superior Court building will be held on Monday, March 18th in the parking lot east of the Historic Courthouse in Kingman. Plans for the building have been in the works for more than 15 years. The contractor is Johnson Carlier, LLC. Architectural work was done by Dick & Fritsche Design Group and Selberg Associates Inc. On site work is expected to begin on April 1, 2019.
Progress Reports
5. SkySong 5 has reached a key construction milestone as the largest office building at the project moves toward completion this summer. The structural steel in the six-story building has reached the building's final height of 90 feet. The architect is Butler Design Group and the general contractor is DPR Construction.
6. Cives Corporation is building a new 58.2KSF Steel Fabrication Plant at 135th and Olive Avenues. Cives Corporation and FCI Constructors broke ground on January 9 on this facility, which is expected to be open around October 2019.  The new 25-acre site also has five outbuildings for support equipment, as well as a new rail road spur for importing and exporting materials by rail.
7. The Statesman Group announced that leasing opportunities are now open for the first phase of Montreux, a $74M luxury apartment community at Deer Valley between 52nd and 56th St in Phoenix. The entire project is expected to be delivered by the end of this year.
8. The Element at Skysong is on schedule for its mid-to-late June 2019 opening. Jackson-Shaw has selected a general manager, Jessica O'Connell, and an operating company, Crescent Hotels & Resorts. Cooper Cary is the architect and Layton Construction Company is the general contractor.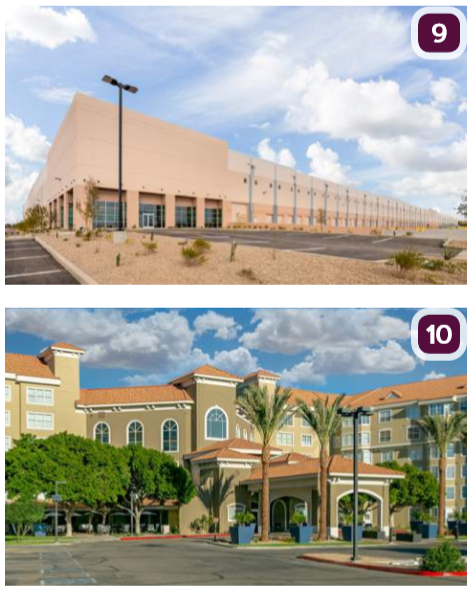 Completions
9. Graycor Construction Company has completed construction of Ten Distribution Center Phase I in Phoenix for Irwin G. Pasternack AIA + Associates PC. The 1.1M speculative industrial project at 8181 W. Roosevelt St, is designed to meet skyrocketing demand in the Western U.S. for ultra-modern logistics and e-commerce space.
10. Sundt Construction, Inc. recently completed Sun Health Communities' Grandview Terrace remodel and expansion. The $13.5M renovation included six floors of corridors consisting of resident condominiums, staff office space, community common areas and resident amenity spaces.