Awards & Accolades


1. Mesa's Gilbert Road Light Rail Extension was among the most significant construction project of 2020, the Associated General Contractors of America announced. As a result, the project's contractor, Stacy and Witbeck/Sundt, a Joint Venture received the association's Construction Risk Partners Build America Merit Award for best new highway and transportation project.
Groundbreakings
2. Graycor Construction Company has started construction on a new Class A hangar building at SkyBridge – a major master planned development at Phoenix-Mesa Gateway Airport that is slated to become the nation's first-ever joint U.S. and Mexico inland port and customs processing hub. When complete, the new hangar building will total 82.5KSF on the 5-acre SkyBridge Lot 107. Architectural firm ADM Group and engineering firm HilgartWilson serve as Graycor's design-build partners for SkyBridge. Jackie Orcutt and Pete Wentis of CBRE are the project's exclusive leasing brokers.
3. Diversified Partners will break ground on an exciting new 10.4-acre retail center, En Fuego, at 10:30 a.m. on March 16th at the NWC of 91st and Glendale Avenues.
Progress Reports
4. The new 150KSF Prasada Gateway Costco in Surprise is beginning to take shape and is scheduled for a summer 2020 opening. MG2 is the design firm and Robinson Construction is the general contractor.
5. The $2.3M Flagtown Lofts, a six-unit residential and 2.1KSF commercial development on S. San Francisco Street, Flagstaff, is slated for completion this summer.
6. After buying the former Henkel Corporate Center in north Scottsdale, Stockdale Capital Partners has renamed the building to Ilume Innovation Center and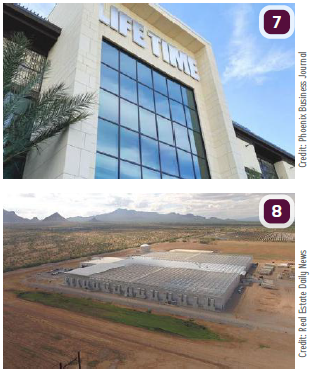 is looking for tenants after former laboratory and research and development space in the structure has been turned into office space. Currently, the building's common areas and main lobby are under construction, and signage will be added facing Loop 101. Pinnacle Design Inc. is the designer working on the adaptive reuse.
Completions
7. Life Time Inc. opened its 105KSF location called "Diamond Premier," within Biltmore Fashion Park, Phoenix, and company officials said it's the largest-ever opening for the upscale fitness center operator.
8. The Crop Science Division of Bayer has opened its new $100M, 300KSF smart, state-of-the-art, automated greenhouse facility at 9475 N. Sanders Road, Marana on March 4th.