Groundbreakings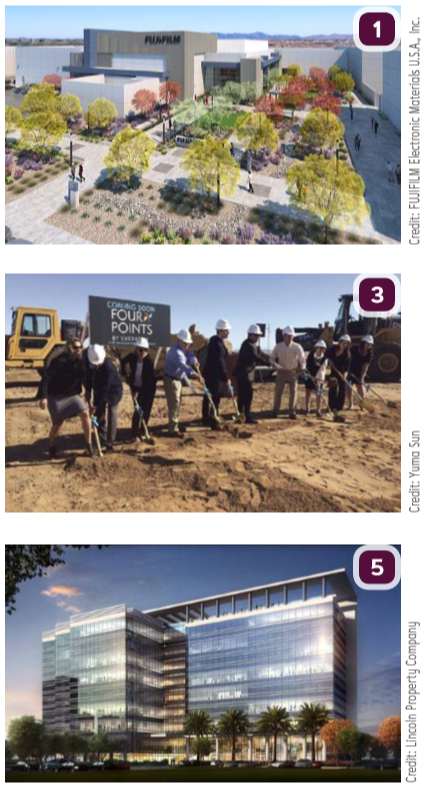 1. FUJIFILM Electronic Materials U.S.A., Inc. broke ground on a major expansion of its manufacturing and development facility in Mesa. The expansion is anticipated to take around 18 months and will comprise of approximately 85KSF of additional space in the form of five new buildings significantly expanding manufacturing, warehousing, R&D laboratory and office space.
2. Heritage Academy officially broke ground on its new $16M school set to open in July. The investment will come in two phases, with $13.3M for the opening phase in the first year followed by a $3.3M phase a couple years after enrollment grows. A school auditorium is planned in the second phase.
3. A groundbreaking ceremony was recently held for the construction of a new 4-story, 110-room Four Points at Sheraton. The hotel, developed by PR Normandale Hotels, is expected to be complete in May 2020.
Progress Reports
4. A $6.6M permit was issued for foundation work on the Graduate Hotel & The Collective Apartments project at 930 E. Second St. The hotel will have 165 rooms and the apartment complex will have 238.
5. Lincoln Property Company has officially poured the top floor of The Grand at Papago Park Center 2, bringing the building to the "topped out" stage and ushering in its final phase of construction. LPC joined with project architect DAVIS, general contractor Whiting-Turner and other major subcontractors to commemorate the benchmark. The project is expected to be completed in June.
6. PMB plans to complete work in May for a challenging, adaptive reuse project, converting a 50KSF foot 1980s-era multiplex movie theatre to a modern medical use. The project is currently 90 percent pre-leased. SmithGroup is the architect and AK-SAR-Ben Companies Inc. is the general contractor.

7. Abrazo Mesa Hospital's new 32.5KSF facility is on track for a mid-2019 opening. The hospital will be located at 5750 E. Baseline Rd. and provide emergency and acute care services.
Completions
8. This month, Caterpillar will begin moving about 400 employees from temporary work locations to the $50M, 150KSF Tucson Mining Center facility at Cushing St and Avenida del Convento. The architect on the project was Swaim Associates and the general contractor was Sundt Construction.
9. Hunt Companies, Inc., Tilton Development Company and Ryan Companies US, Inc. have completed the six-story Circa Central Avenue multifamily project in Downtown Phoenix. The project is now open and accepting new residents.
10. McCarthy Building Companies recently completed renovations and additions at Kofa High School, 3100 S. Avenue A, in Yuma, for the Yuma Union High School District. DLR Group provided architecture, interior design and structural engineering for the project, which includes two new buildings and the remodel of four existing facilities.
11. A grand opening and ribbon cutting celebration is scheduled for Thursday, March 28th at 3:00 p.m. for the completion of Inspira Arrowhead, Cadence Living's newest senior living community.