Groundbreakings


1. Cousins Properties and Hines announced they have commenced development of 100 Mill, a 287KSF, 18-story office tower at the SWC of Mill Avenue and Rio Salado Parkway in Tempe. Initial occupancy is expected in the first quarter of 2022. Total development cost is anticipated to be approximately $153M.
2. Irgens broke ground on 999 Playa del Norte, an 83-foot-tall, six-story, 94.3KSF, Class A office building just north of the Rural Road bridge in Tempe. WORKSBUREAU is the architect and A.R. Mays Construction is the general contractor.
3. Fain Signature Group and Dorn Homes recently broke ground on Parke Place Talking Glass, a single level rental home community at the corner of Glassford Hill Road and Long Look Drive in Prescott Valley. This is a six-phase project with first occupancies scheduled for 1st quarter 2021.
Progress Reports
4. Company executives from Plaza Companies, Holualoa Companies, Kitchell, Coreslab Structures, GLHN Architects & Engineers and PK Associates Structural Engineers all gathered in Midtown Phoenix on Thursday to celebrate the placement of the final piece of the precast structure for the 10.5-story, 551.8KSF Catalina Parking Garage at Park Central Mall. When completed later this year, the garage will serve the current tenants at Park Central Mall, as well as the future Creighton University complex.
5. Xanterra Parks and Resorts' $30M renovation of the Maswik South lodging facilities, located at the South Rim of the Grand Canyon, is expected to be complete this summer. The project was designed by OZ Architecture, with Kinney Construction serving as general contractor.
Completions
6. LGE Design Build designed and constructed Skyline at Gila River, a new charter school campus on a 5.49-acre site for Skyline Schools. The campus includes a one-story building that includes both traditional and vocational classrooms, administrative offices with conference rooms, a multi-purpose room, a gymnasium with locker rooms, and a cafeteria.
7. The 346-room Marriott Phoenix Airport, 1101 N 44th Street, Phoenix, announced the completion of its multi-million-dollar renovation and introduced new guest rooms, meeting and public spaces, restaurant, bar, Concierge Lounge and pool area.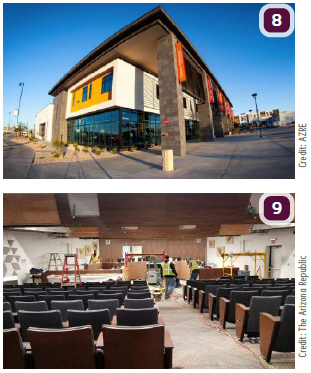 8. Ottawa University-Arizona (OUAZ) will hold a two-part ribbon-cutting ceremony on Friday, February 21st, to celebrate the completion of $57M in new facilities on its Surprise campus. The finished projects include the O'Dell Center for Athletics, the Scholars Hall and the OUAZ Student Center.
9. The public will get its first opportunity to see the $3.3M remodeled Tempe City Council Chambers during an open house on February 24th. The renovation is part of building wide upgrades planned for the iconic upside-down pyramid on Fifth Street.
10. A ribbon-cutting ceremony was recently held for the Ballpark Boulevard project in Glendale. The new road connects Camelback Road to Glendale.