Groundbreakings


1. Sundt Construction, Inc. has started work on the new Ruthrauff Road and Interstate 10 (I-10) interchange on the Northwest side of Tucson for ADOT. The $79M project includes widening I-10 to four lanes in each direction and reconstruction of the traffic interchange. Construction is slated to complete by the end of 2021 with the Ruthrauff Road overpass opening to traffic by fall 2021 and interchange ramps opening later in the year.
2. Hamilton Partners recently broke ground on the Hamilton Commerce Center, a three building, 300KSF industrial complex in the Estrella Industrial area of Avondale. The project was designed by Ware-Malcomb, is being constructed by The Renaissance Companies and will be ready for occupancy in late Q3 2020.
3. Stevens-Leinweber Construction has broken ground on a brand new, built-to-suit Vista College Preparatory campus at 1720 N. 45th Ave, Phoenix, called VCP-Sueno Park. Upon its completion in August – in time for the 2020-21 school year – VCP-Sueño Park will total 35KSF on a 3-acre site. Carhuff + Cueva is the architect.
4. Abrazo Health is set to begin construction of a new single-story, small-scale community hospital near the intersection of Carefree Highway and Cave Creek Road. Abrazo Cave Creek Hospital will focus on emergency care and surgical services and is expected to be open in 2021.
5. Downtown Mesa will see major changes on Main Street throughout 2020, as Palladium GRID breaks ground on a new $75M mixed-use development, The GRID.  A groundbreaking ceremony is slated on Monday, February 24th from 8 a.m-10 a.m. The GRID is expected to open in phases, with the first phase slated for delivery in late 2020.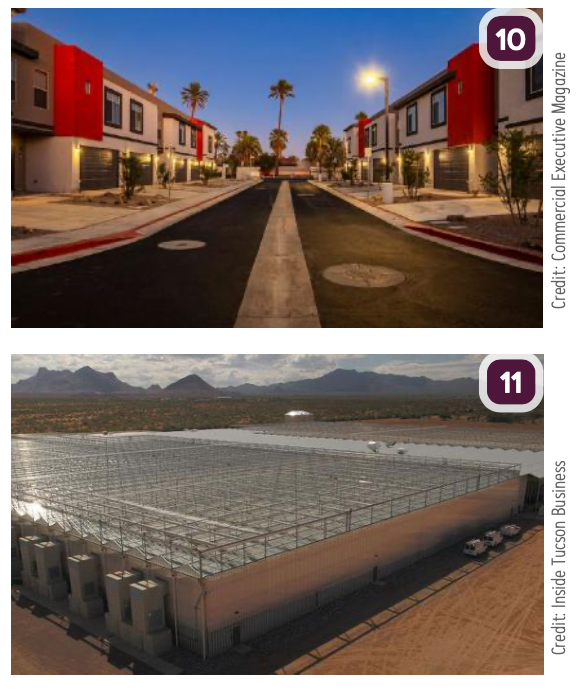 6. Sparrow Partners has started construction on Mera City Center, a five-building, four-story, 193-unit senior living facility at 15510 N. La Cometa Avenue, Surprise. With Fugleberg Koch as architect, Kimley-Horn as engineer and Norris Design in charge of landscaping, the project is scheduled to open in the spring of 2021.
7. Construction is underway on a new $15M, four-story Hampton Inn & Suites by Hilton near Metrocenter Mall in Phoenix. Construction on the hotel will take 12 to 14 months.
Completions
8. Modular Mining unveiled its new Customer Experience Center (CEC) during a recent ribbon cutting ceremony in Tucson. The CEC's opening coincides with Modular Mining's 40th anniversary and celebrates the company's continued growth and positive trajectory in both Tucson and the mining sector.
9. FatCats Entertainment has recently completed their new 64KSF entertainment center at 5740 E. Longbow Parkway, Mesa. The center includes eight theaters, 20 bowling lanes, arcade, nine-hole glow in the dark mini golf, party room, virtual reality area, bar and restaurant. TK Architects International was the architect and A.R. Mays Constructionwas the general contractor.
10. WestStone Group and Constellation Communities announced the opening of Lyra Residences, a new 18-unit community located in the vibrant Arcadia neighborhood.
11. After three years of development, a seven-acre greenhouse facility operated by Bayer just outside of Marana is expected to begin operations this week, with plans to begin heading toward full capacity in March. The facility is located on a 155-acre plot just north of a Tucson Electric Power solar farm.