The Rising Cost of Construction Materials
By Rebekah Morris for AZBEX
Part 2 in a series on overall construction cost increases
In early June, more than 100 A/E/C professionals gathered at Sky Song to hear a large roundtable discussion about Rising Construction Costs put on by BEX.
Moderator and BEX President and Founder, Rebekah Morris guided the discussion between three types of firms: General Contractors: Mike Bontrager, President of Adolfson & Peterson Construction, Roger Rowley, Pre-Construction Manager for Hunter Contracting; Subcontractors: Mike Greenawalt, Senior Vice President of Rosendin Electric; Brian Scherer, Director of Business Development, Bell Steel; Andy Clarke, General Manager for Roofing Southwest; Materials Suppliers: Lloyd Hannon, Phoenix Ready Mix Sales Manager for CEMEX, and Ben Rathke, General Manager for Ferguson.
The first topic to discuss was materials price increases. CEMEX and Ferguson naturally started the discussion. From their perspective, the increases in materials cost is both dramatic and nuanced.
Construction materials include everything from aggregate, cement and asphalt products to piping and structural steel, from exterior glass and metal products to the gamut of roofing products to the entire sphere of interior finishes including flooring, wall coverings, furnishings and equipment. It is virtually impossible to make an accurate statement regarding the rise of construction materials unless taken in a very narrow context.
Heavy civil construction including roadways, parks and water/wastewater projects rely on a reasonably narrow set of materials: aggregates, cement and asphalt products are commonly sourced regionally and are manufactured in small local batches. Hunter Contracting verified that from his perspective as a heavy civil contractor, he sees a materials price increase in the range of 15 percent in concrete, an 8 percent increase in asphalt and a 15-20 percent increase in the various types of pipe.
Building construction on the other hand includes dozens if not hundreds of materials. Some of the notable material price increases the roundtable noted include: 10+ percent price increases in steel, while lumber and copper prices have softened. Mike Greenawalt of Rosendin Electric noted materials price increases of 15% in the last year.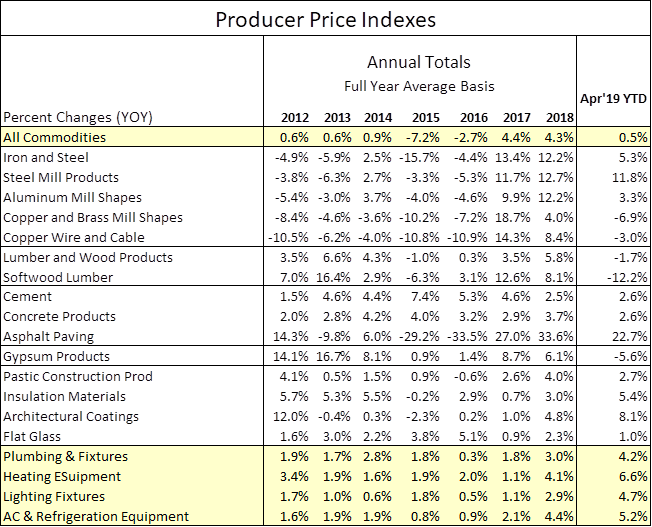 Components vs. Assembled End Products
Ferguson and Rosendin explained the difference between the raw materials vs. the assembled end product. Rosendin described how the price of copper is low right now, and is likely to increase in the next six to 12 months. He provided a bit of history, saying that in the mad dash to build pre-recession, firms were pre-buying copper for jobs they had not yet won in order to lock in prices. He doesn't see that right now, but it is a possibility in the near future.
Ferguson explained how individual materials are imported in from other countries, then assembled in the U.S., including valves, fittings, and the like. "It is very expensive to ship air" is a good way to think of what is manufactured locally vs. imported in. Large diameter pipe and anything inexpensive and bulky would not make sense to import in from other countries. Commonly in the pipe, plumbing, and fire protection systems, individual components will be manufactured internationally, shipped and assembled domestically.
The Time Cost of Money from Budget to Buyout
Panelists highlighted the cost of time – with volatile product prices it has been impossible for suppliers and subcontractors to hold their initial budget or bid price for an extended period of time. The time from initial budget pricing during design phases to final materials P.O. purchase is months. Assuming everything goes smoothly, the cost of materials might have increased 10-15 percent in that time.
Across the board panelists agreed that early involvement and discussion with key players was a prime way to minimize the impact of materials price increases. However, asking firms to hold a budget estimate prior to design being complete in a volatile pricing environment is untenable.
Tariffs & Major External Events
Adding to the strain of materials prices are the taxes levied on imported goods by the federal government. The first tariffs announced were on a slew of imported Chinese goods; building products made up a good portion of those goods. The impact was immediate and dramatic – overnight prices for steel, sheet metal panels, metal studs, windows and many more jumped 15-25 percent.
Unfortunately, U.S. manufacturers saw an opportunity to raise prices as well and did. Conversely, the lumber that the U.S. manufactures and exports to countries that matched with retaliatory tariffs on U.S. goods saw a price drop to compete.
Beyond tariffs, the panel brought up how major weather events in the rest of the country impacts Arizona's ability to secure materials. When major weather events including tornados and hurricanes cause major damage to a region, the rest of the country feels the effects of the drain on building materials through higher prices and short supply.
Fortunately for the market, the abrupt price increases seen in 2018 and the first part of 2019 appear to be the worst of the price escalation. All panelists agreed that the next 6-12 months should see relatively stable pricing for materials, barring any unforeseen market disruptions.