Market Conditions Driving Rise in Construction Costs
By Rebekah Morris for AZBEX
The last two parts in the series on rising construction costs focused on labor and materials specifically. Beyond tracking the most direct inputs of increased cost of labor and materials is the nuanced and indirect cost increases. We'll attempt to explore some of the market conditions also playing into this trend in this piece.
Demand is Outpacing Supply
Ask anyone in the construction industry how things are going and you're very likely to get some variation of the response 'Very Busy'. More precise descriptions include: at or near record levels of both revenue and backlog (contract bookings for future work).
The historical total construction activity chart shows the rise of the last cycle, hitting a high point of $21.7B in 2005, then dropping to a low point of $8.46B in 2010, then a bumpy recovery in the early 2010's. Only in the last two years the statewide construction industry has seen consistent 10+ percent Year Over Year growth. The consistent increase in demand is straining the capacity of the system. As Benjamin Rathke, General Manager of Ferguson put it, 'supply has not increased while demand is increasing.'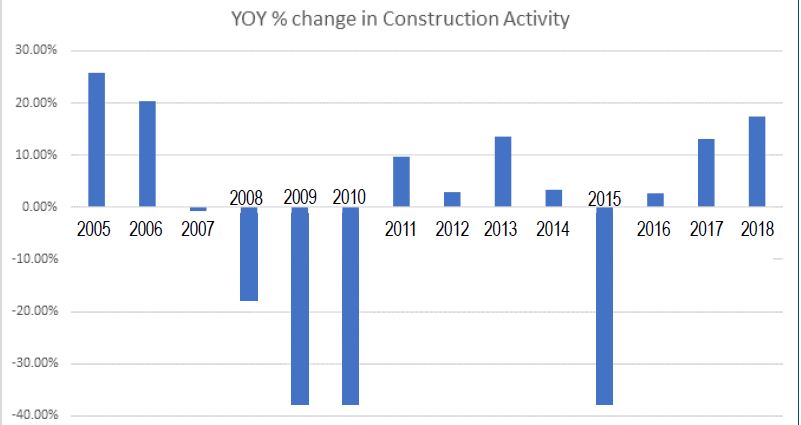 In past cycles, firms were able to ramp up capacity, whether it be drawing labor from other locations, attracting new workers into the industry, or accepting higher prices to ship in materials from other states. This cycle is not acting the same. Building materials are not as easily accessible as they previously were. Skilled labor is harder to attract and even harder to retain.
Mike Greenawalt, Vice President of Rosendin Electric, explained that while Arizona construction workers are getting paid more, the state doesn't compare well to a place like Northern California where union electricians can make up to $90/hr, and afford their $4,000/month rent for an apartment.
Pent up Demand in Commercial Sectors
At the BEX 2019 Private Development Summit, construction by market sector was presented using data provided by CBRE. Looking at the graphs for Industrial, Office and Retail we can come to a stark conclusion – while construction activity was depressed starting in 2010, it snapped back with a vengeance in 2012 (Industrial), 2014 (Office), and 2015 (Retail). More importantly, Industrial is surpassing the high level of 2012 and the Office sector is stabilizing at a healthy level. Industrial construction alone represents more volume than the sum of Office and Retail.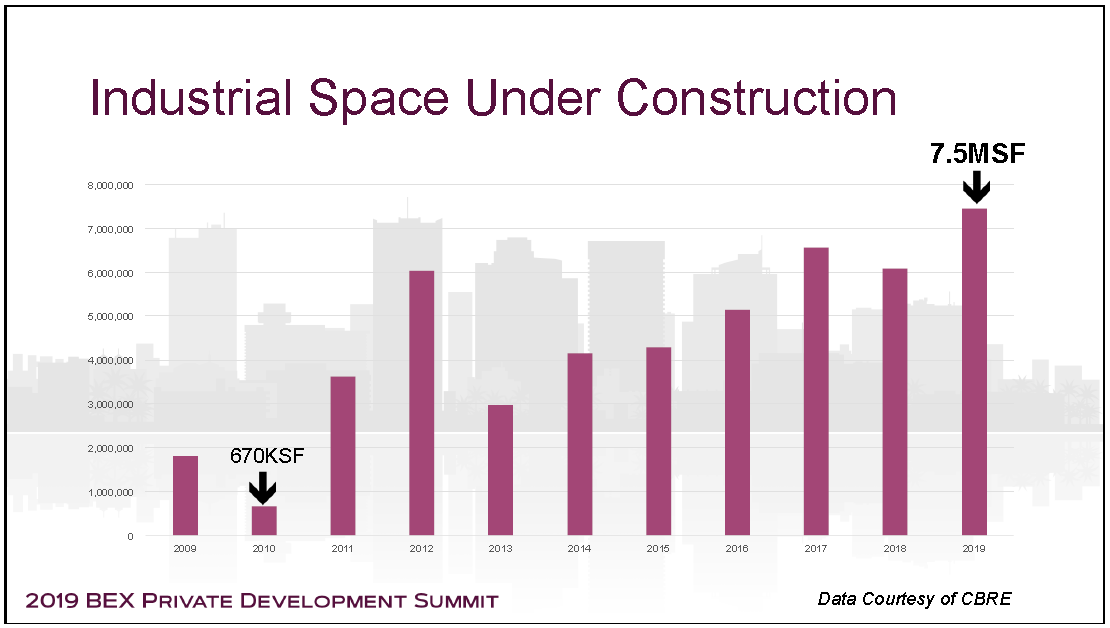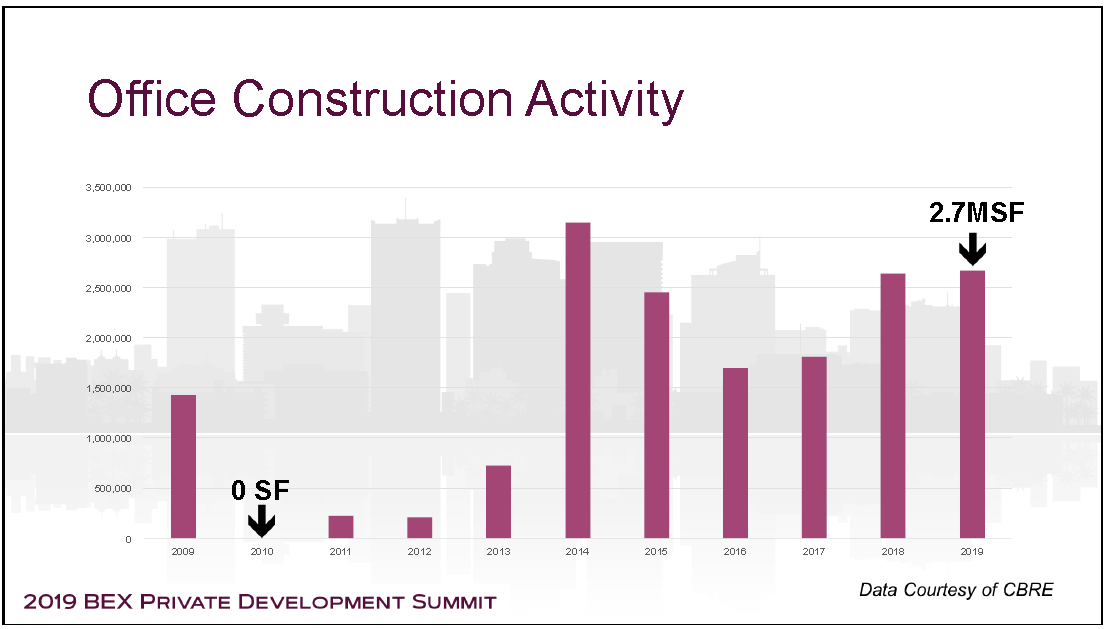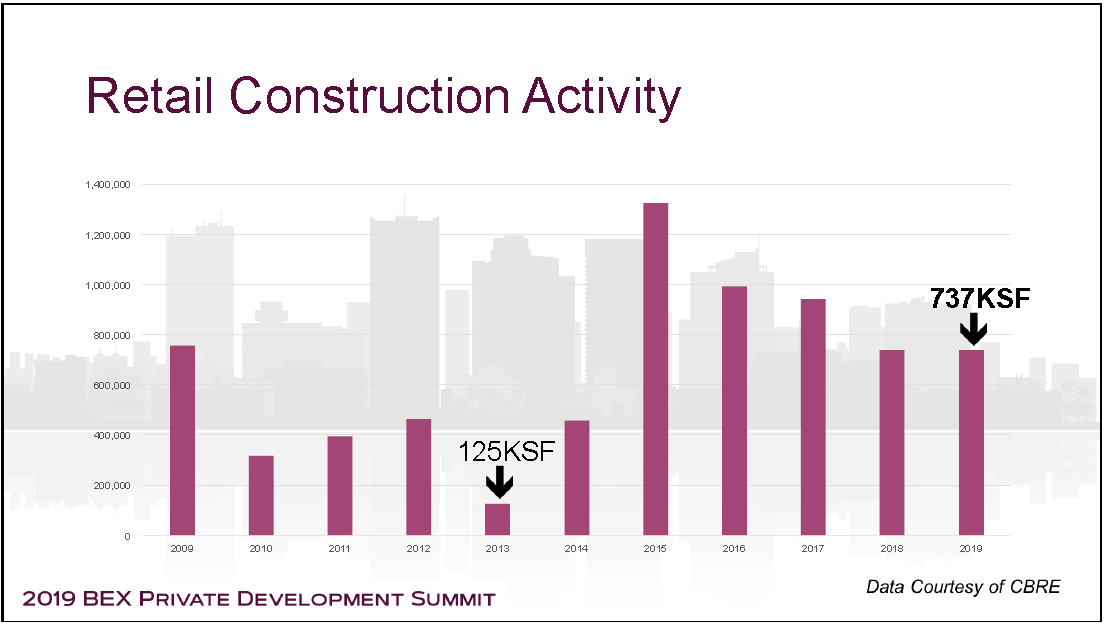 Opportunity Costs
As demand is hitting higher levels, contractors are responding with higher prices. Margins are increasing and both owners and general contractors are having to work harder to ensure coverage of trades. Anecdotally, we hear stories that include subcontractors withdrawing their bid after thinking they would not have ever gotten it, projects going out for rebid after rebid trying to get back down to budget and development projects being canceled because they no longer provide the required return to developers and investors.
Are all Price Increases Bad?
The above doom and gloom might seem like all price increases are bad for the market. On the contrary, rising construction prices mean the free market economy is working as intended. In busy times, prices are rising, not only to cover the direct costs of materials and labor increases, but to slow their bookings.
Contractors will still submit pricing even if their capacity is waning for a variety of reasons: to maintain a level of visibility in front of a key client, to continue a relationship with a key client, etc.
When prices send the project into the 'No-Go' range, the firms can redirect resources to other projects that need them. In many ways, that ensures that the best projects move forward and will be profitable for all parties.
To wrap up the series on rising construction prices, we invite you to review the last piece on what owners and contractors can do when pricing comes in over budget.