Industry Professionals 12-03-19
Giving Back

1. George Randall and Payson Concrete & Materials once again did their part to make it a good Thanksgiving for Rim Country residents in need by donating $4K to split evenly between four area nonprofits, and more than a ton of food to the food bank. Every October the local business owned by brothers George, Robert and Fred Randall, raises food to donate to the St. Vincent de Paul Food Bank and money for four Rim Country nonprofits through their Oktoberfest project.
2. The Sundt Foundation awarded over $95K in grants to 26 Phoenix-area nonprofits, including Maggie's Place, Inspire Music Service Hope, Inc. and more, during its fourth-quarter disbursements.
Awards & Accolades
3. Snell & Wilmer recently announced Phoenix partner Heidi McNeil Staudenmaier was inducted into the Maricopa County Bar Association Hall of Fame during the annual awards dinner Nov. 14 at the Phoenix Country Club.
Company News
4. Restoration Builders, Inc. announced that it has completed an asset purchase agreement to officially acquire Built Strong Exteriors, LLC. The company estimates this network will produce $100+M in revenue for 2019.
5. Once known as a giant in the single-family rental space, Blackstone is getting out of that market. The investment firm has sold its last stake in Invitation Homes Inc., the company it created during the housing crisis to snatch up tens of thousands of foreclosed properties and turn them into rentals. The company raked in about $7B, more than double what it originally invested.
6. Kovach Enclosure Systems, LLC of Chandler, AZ, is a newly formed company owned by Steve Kovach IV and construction industry veteran, Kelly Sands. The new company announced that on October 21, 2019, it purchased all assets and hired all employees of Kovach, LLC, a 50-year-old company providing exterior building enclosures. The purchase also includes trademarked Kovabond, one of two ICC fire-rated exterior ACM building materials in the United States.
7. Yael Pelc and Eric Bashaw have joined forces once again to take on the unique and chaotic world of furniture by forming Creative Furniture Connection.
8. Belfiore Real Estate Consulting has presented new data that shows Fulton Homes as the state's top family-owned homebuilders as well as one of the state's top homebuilders by subdivision.
9. The Arizona Small Business Association (ASBA) is doing a never before done video series powered by Salt River Project (SRP). Partnering to learn more about what small business are doing that's impacting the community. Oei Design was one of three finalists to feature a video campaign showcasing their small business.
Promotions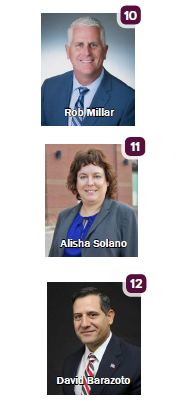 10. Rob Millar has been named Economic Development Director for the City of Scottsdale, after he had been serving as interim director for more than a year.
11. After a national search, Alisha Solano was selected as the Director of Buckeye's Water Resources Department. Solano currently serves as Interim Director, and oversees the administration, water, wastewater, conservation and customer service utility billing areas for the department.
New Hires
12. Recently retired Technology and AEC Executive David Barazoto, co-founder of Gilbert-based Technology Providers, Inc., has taken a Principal position with Convergent Technologies Design Group. Barazoto will run West Coast Operations from their Tempe office.
13. Clear Title Agency of Arizona, a leader in commercial and residential title and escrow services, boosted its commercial expertise in the Valley with the hiring of two industry professionals. Nicole Marruci joins Clear Title as Vice President of Commercial Title and Dawn Zenobi has joined the company as Commercial Escrow Officer.