Industry Professionals 10-08-19
Awards & Accolades

1. NEZ/FCI was one of eight firms/individuals honored at the Minority Enterprise Awards Ceremony on September 9th. Marvin Nez was in attendance to accept the National "Minority Construction Firm of the Year" award from the U.S Department of Commerce, Minority Business Development Agency.
Boards & Commissions
2. Erin Raden has joined the Arizona Masonry Council (AMC) as the organization's new executive director where she will lead and manage AMC's Education and Promotion, Workforce Development, Building Code Advocacy and Government Relations efforts. Also joining AMC as Program Director is Cassie Mejia. She will be overseeing AMC's workforce development programs and event management.
Company News
3. Restoration Builders, Inc. announced that it has officially acquired the assets of Next Generation Roofing Contractors, LLC. The company has signed asset purchase agreements with 15 privately held restoration and repair businesses strategically located across high storm traffic regions of the United States. Integration of each business is scheduled of the next several weeks.
Promotions
4. Cannon & Wendt Electric Co. announced the promotion of Shane Snyder to president. As he prepares for his retirement at the end of 2020, current president David Fagan will move into the role of CEO and work closely with Snyder over the next 14 months to successfully transition the role.
5. Wood, Patel & Associates, Inc. (WOODPATEL) is pleased to announce that Nicholas Brown, P.E. is now vice president of the Municipal Department. Brown, who has been serving as a WOODPATEL Project Manager in Site Development, became a WOODPATEL company shareholder this past summer.
6. AJ Thomas brings over 20 years of architectural experience and was promoted to the healthcare sector leader at Corgan.
New Hires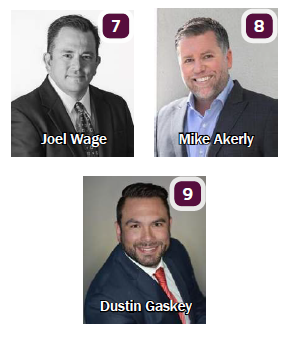 7. VanTrust Real Estate hired Joel Wage as vice president of Development Services at its Phoenix office. In this new role, he will be responsible for the successful delivery of VanTrust developments in the Western Region.
8. Compass Development has recently hired Mike Akerly as managing director, Strategic Development where he will consult with visionary developers on all facets of their projects from pre-development design and market positioning to branding, sales strategies and project management.
9. Thomas Title & Escrow announced the appointment of Dustin Gaskey as chief operating officer. Dustin joins the team to take the lead on revenue-generating initiatives, strategic planning, sourcing and developing M&A opportunities, and managing division market leaders.