Industry Professionals 09-03-19
Boards & Commissions

1. The Sundt Foundation has selected two new officers and added two new members to its board of directors. Stefanie Teller replaces Randy Rusing as President, and Joe Riccillo will assume Teller's role of Vice President. Rick Buchanan and Jesse De Haro have been added as members to the Foundation's board.
2. Wood Patel & Associates has announced its new shareholders: Nicholas Brown, PE, Municipal Team; Frank Koo, PE, Residential Team; Gabe Rios, RLS, Survey Team; Dan Matthews, PE, Residential Team; Ethan Boyle, PE, Residential Team.
Company News
3. With more than 20 years of combined experience in the Valley, local minority business people Samantha Root and Vince Ortiz have collaborated to launch Lujo Commercial Cleaning. The new company, located at 2801 E. Camelback Rd, Suite 230, Phoenix, will provide full-service commercial cleaning.
Promotions
4. Chance Copperstone, M.A., has been promoted to Cultural Resources Project Manager in Tierra Right of Way Services' Tucson headquarters. As project manager, he will continue to apply his expertise in the areas of fieldwork, data analysis, and project implementation and logistics.
New Hires
5. Susanna Reust has joined Kidder Mathews' Phoenix office in an expansion of the firm's Debt & Equity Finance Services to the Phoenix market, and she has been named a vice president.
6. W.E. O'Neil Construction Co. of Arizona announced the addition of Jaime Vidales as of Preconstruction Manager in its Phoenix office.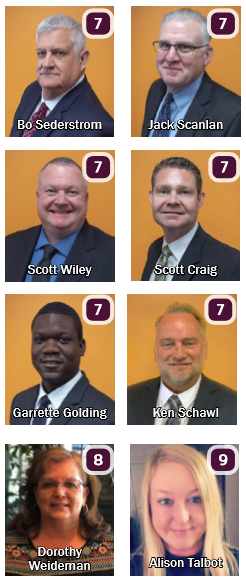 7. Less than a year after its formation, boutique metro Phoenix brokerage firm Citywide Commercial has expanded with six new brokerage team members. They are:
Bo Sederstrom, Senior Sales & Leasing Agent
Jack Scanlan, Associate Broker
Scott Wiley, Associate Broker
Scott Craig, Sales & Leasing Agent
Garrette Golding, Sales & Leasing Agent
Ken Schawl, Sales & Leasing Agent
8. Dorothy Weideman was recently hired as a Right of Way Agent in Tierra Right of Way Services' Tucson headquarters.
9. Alison Talbot was recently hired as an Archaeologist in Tierra Right of Way Services' Tucson headquarters.
10. Newmark Knight Frank (NKF) announced the addition Michelle Rae, joining as an associate in the Phoenix office. Rae will work alongside Managing Directors Trisha Talbot and Kathleen Morgan specializing in medical/healthcare leasing and assisting the team in all facets of its full-service healthcare portfolio.