Industry Professionals 08-27-19
Awards & Accolades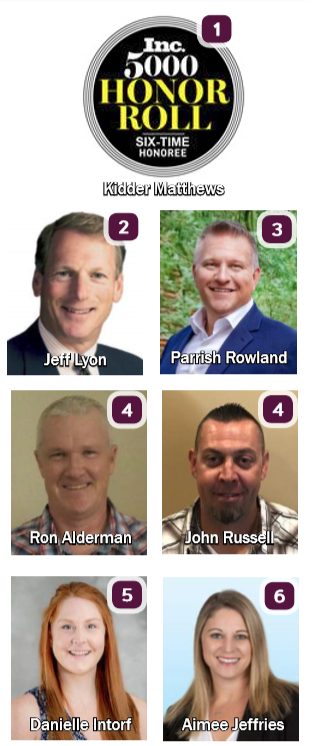 1. Kidder Mathews has been named an Inc. 5000 Fastest-Growing Private Company in America by Inc. Magazine. This is the sixth time the firm has received this prestigious recognition, also earning the distinction in 2018, 2017, 2016, 2015, and 2013. Inc. Magazine tracks private company growth and ranks it against national peers. The list represents a unique look at the most successful independent companies in the nation.
2. Kidder Mathews' Chairman and CEO, Jeff Lyon, has been honored with the pinnacle Lifetime Achievement award by the Puget Sound Business Journal's Commercial Real Estate Leadership Awards.
New Hires
3. Parrish Rowland has joined the Willmeng Construction team as their Job Order Contract (JOC) Division Manager. In this role, he will lead Willmeng's continued efforts to serve their growing business of job order programs for their public and private clients.
4. Sigma Contracting Inc. announced the hiring of Superintendent Ron Alderman and Project Manager John Russell. They each have spent 23 years in the industry.
5. Sundt Construction, Inc. recently hired Danielle Intorf as a business development representative in its Transportation Group. Intorf brings years of marketing experience to her new role, working with architects, subcontractors, brokers and owners. She also has an extensive set of skills such as project management, proposal development, database management, staff development and relationship development.
6. Aimee Jeffries, an experienced professional of commercial real estate marketing in Metro Phoenix, has been named marketing manager with Colliers International in Arizona.