Industry Professionals 08-13-19
Giving Back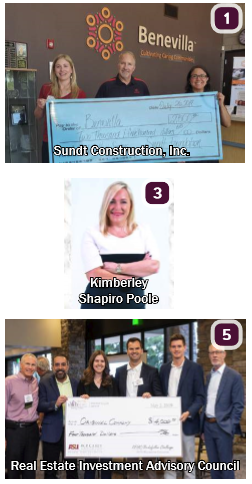 1. The Sundt Foundation awarded over $85K in grants to 30 Phoenix-area nonprofits during its third-quarter disbursements. The Sundt Foundation awards grants each quarter to area charities that support disadvantaged children and families. Nonprofits are selected through an application process and reviewed by a committee of Sundt employee-owners.
2. The Sundt Foundation awarded a total of $41.9K in grants to 20 Tucson-area nonprofits during its third-quarter disbursements, with Outdoor Adventures for Wounded Veterans, Inc. receiving the highest grant $3K.
Awards & Accolades
3. Kimberley Shapiro Poole, A 27-year architecture, engineering and construction industry veteran and vice president of business development for Skanska, has been announced as one of the Most Influential Women in Arizona for 2019 according to AZ Business and AZRE Magazines. The Most Influential Women for 2019 will be honored at a dinner and reception that begins at 5:30 p.m. on August 22, 2019 at the Arizona Biltmore.
Company News

4. Vision Solar, which specializes in residential and commercial solar installations, plans to open a Tempe location and begin hiring 60 people for sales and installation jobs later this month.
5. REIAC Southwest is celebrating its 20th anniversary this year. REIAC is an exclusive national fellowship of top real estate executives that offers superior educational events, networking opportunities and community service.
Promotions
6. The Town of Fountain Hills has announced that John Wesley will serve as the permanent development services director for the community. Wesley was brought in to serve as interim development services director in April.
7. Wood, Patel & Associates, Inc. announced the addition of new shareholders of the company. WOODPATEL's Project Managers Nicholas Brown, PE, Frank Koo, PE, Dan Matthews, PE, Ethan Boyle, PE and Gabe Rios, RLS have all recently been made shareholders of the company.
New Hires
8. Commercial retail veteran Rick Francis has joined Velocity Retail Group as a Vice President. As a top producer in the retail arena, Rick has a deep background that is focused on servicing the needs of retail shopping center owners, retailers and investors.
9. W.E. O'Neil announced the addition of Brian Potter as Chief Estimator. Potter has 20 years of construction management, owner representative and estimating experience, along with a relentless dedication to his work. He will be leading their preconstruction departments in both Phoenix and Tucson.
10. Bryce Horner has joined CBRE Capital Markets as associate. Based in Tucson, Horner will work under commercial real estate veteran, Mike Sandahl, focusing on investment property sales.
11. Anthony Leibold joins Hazen & Sawyer as a construction manager in Tempe. He has over 23 years of experience in design and construction of electrical/instrumentation and controls for a wide variety of industries including water/wastewater, petrochemical, refining and power.