Industry Professionals 06-22-18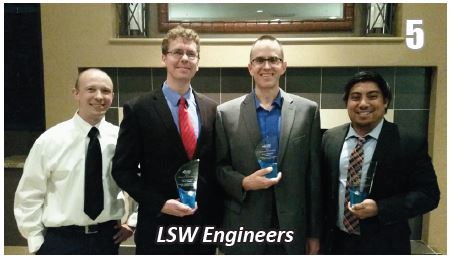 Awards & Accolades
1. Phoenix Business Journal has published its 2018 list of Top Architecture Firms, ranked by number of local, registered architects. With 39 local architects, SmithGroupJJR took the top spot. The full list is available here.
2. DFDG Architecture has announced that one of their employees, Chris Ford, has recently completed certification and testing to become a registered architect and a registered landscape architect. In a state where almost 7,000 architects have registered with the Board of Technical Registration, Chris is one of only 12 who possess registrations in dual disciplines.
Company News
3. Virtua Partners announced the launch of the first-ever Opportunity Zone Fund. Virtua Opportunity Zone Fund I, LLC aims to raise $200M and is designed to utilize the tax-savings opportunities created by the tax-reform law. It will primarily invest in residential rental property development (multifamily and SFR rentals), hospitality and office.
4. Sherry Engle, a Phoenix-based interior designer and founder of s.e. design Inc., announced plans to expand and rebrand her full-service design firm into Reverie West. Under the company's new name and brand identity, Engle and her team will be growing its portfolio of commercial design projects and adding in-house product development.
5. LSW Engineers Arizona, Inc. received three awards at the Fourth Annual ASHRAE Central Arizona Honors and Awards Dinner on Thursday, June 14.
Philip Mouw, PE, LEED AP won for "Best Professional Engineer."
LSW's design of the Carnival Cruise Terminal – Long Beach Renovation won for "Best Commercial HVAC Design."
LSW also won an award for "Most Supportive Employer."
New Hires
6. Broadstone Net Lease (BNL), a subsidiary of Broadstone Real Estate LLC, has named Greg Lang and Sean Hostert as its newest vice presidents of acquisitions of its commercial division. Based in the firm's Phoenix office, they will work closely with brokers and sellers to identify, analyze and acquire single-tenant commercial real estate assets.
7. A.R. Mays Construction has hired Ernest Hasan as Project Manager and Melissa Montano as Assistant Project Manager.
8. Amy Dattilo-Cavallaro has joined CBRE's Tucson office as a senior associate of advisory and transaction services, industrial and logistics. Dattilo-Cavallaro's focus on the industrial team is the sale and leasing of industrial properties, including manufacturing, warehouse/distribution, back office and research and development.
9. NAI Horizon, having just celebrated its 25th anniversary in the Valley in 2017, continues its growth with the hiring of Ally Bluechel as Marketing Specialist. Bluechel will provide support to NAI Horizon brokerage teams by developing materials for marketing proposals. She will also create and maintain marketing materials that will help reinforce brand recognition.