Industry Professionals 06-01-18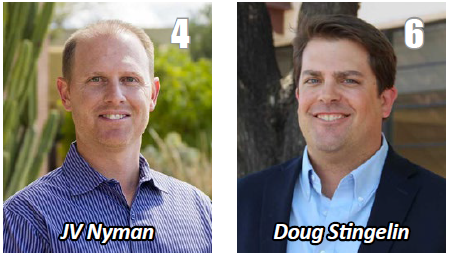 Awards & Accolades
1. Earlier this month the Arizona Multihousing Association held its annual gala and announced the winners of the 2018 Tribute Awards celebrating excellence in the industry. The full list is available here.
2. Joseph Cunningham, founder and director of operations for Tempe-headquartered Sunny Energy, has earned the solar industry's leading recognition of installation expertise from the North American Board of Certified Energy Practitioners (NABCEP®), and is now a NABCEP Certified PV Installation Professional.
Boards & Commissions
3. Maia Crespin started work May 21 as the new Executive Director of Rim Country Regional Chamber of Commerce. She had previously served as Executive Assistant for the Town of Payson Parks, Recreation and Tourism Department.
Promotions
4. Concord General Contracting has announced its future leadership transition. Effective January 2020, Dale Marr, Chief Executive Officer, John Nyman, President, and Eric Peterson, Chief Financial Officer, will step down from their day to day leadership responsibilities. Grenee Celuch will assume the Chief Executive Officer position, Jason Beaver will continue as the Chief Operating Officer, and JV Nyman will become President of the firm.
5. Nate Hoelzen has been promoted to president of the Arizona School of Real Estate & Business in Phoenix.
6. GLHN Architects & Engineers, Inc. recently announced three promotions. Doug Stingelin is the new Director of Mechanical Engineering. Bill Koller is now Department Manager of Mechanical Engineering, and Jon Ziegler has been promoted to Senior Mechanical Engineer/Analyst.
7. Skanska has promoted Kevin Connor to VP & Project Executive. He has been with Skanska for 17 years.
Transitions
8. Nicholas Weidner and Nikki Pascascio have joined Cuningham Group Architecture's Phoenix team as Senior Project Manager and Marketing Manager, respectively.
9. MEB Management Services has named Barry Manuel as its new Chief Information Officer.
10. Rylan Schimelpfenig was hired by Archer Western Construction as their Regional Procurement Manager.
11. Sletten Companies has hired Martie Swann as Senior Project Manager in its Phoenix office.
12. Bill Borgards is the newly hired Code Enforcement Officer for the City of Coolidge.
13. CBRE announced Amy Dattilo-Cavallaro has joined the firm's Tucson office as a Senior Associate of Advisory & Transaction Services, Industrial & Logistics.
14. W.E. O'Neil has announced Zach Sahlberg has accepted a full-time position after completing his internship. He will serve in the role of Project Engineer in the Tucson office.