Industry Professionals 05-25-18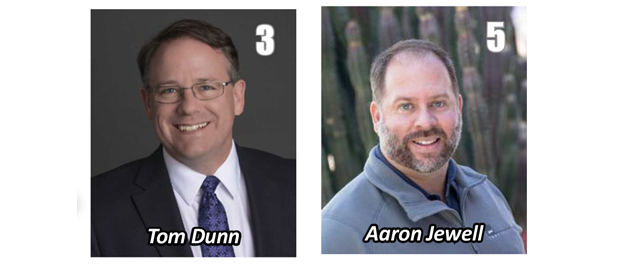 Awards & Accolades
1. Phoenix Business Journal has published its list of Top Commercial Building Contractors. With $486.84M in 2017 billings for Ariz. buildings, Sundt Construction, Inc. took the top honor, up from number 8 last year. The full list is available here.
2. STORE Capital VP – Controller Claire Janssen received the 2018 Arizona Controller of the Year Award presented by Financial Executives International's local chapter.
Boards & Commissions
3. The Arizona Builders Alliance has officially announced the hiring of Tom Dunn, VP of Southern Arizona, to replace Mark Minter, who is retiring after serving the statewide association for 41 years, including the last 25 years as president. In the new role, Dunn will represent ABA members from more than 300 companies of contractors and construction professionals from across Arizona.
Company News
4. Institutional Property Advisors, a division of Marcus & Millichap, announced that Steve Gebing and Cliff David closed six multifamily property transactions totaling $300M and 1,557 units between April 12 and May 4 in the Phoenix metro area.
Promotions
5. Aaron Jewell has been promoted to Director at PWI Construction, a national commercial general contractor headquartered in Las Vegas with offices in Phoenix, Miami, and Austin.
Transitions
6. Jeff Anderson has been named Regional VP of Atmosphere Commercial Interiors' Arizona region.
7. A.R. Mays Construction recently announced three new hires. Joining the firm are Bill Duran, Project Superintendent; Josh Dockery, Project Manager; and Ali Moe, Assistant Project Manager.