Commercial Real Estate Transactions 12-18-2018
Sales Transactions

1. Raintree Corporate Center, a two-building, 345KSF office complex located at 8800 and 8888 E Raintree Dr., Scottsdale, has sold for $91.7M. Equus Capital Partners Ltd. sold the complex to an affiliate of Cypress Office Properties and Oaktree Capital. Kevin Shannon, CJ Osbrink, Ken White, Brad Burton and Paul Jones of Newmark Knight Frank Capital Markets represented Equus in the transaction.
2. Toll Brothers, Inc. has paid $60.6M for 258 acres of vacant land in north Scottsdale. The Crown Family was the seller. Nathan & Associates Inc. brokered the transaction.
3. Cushman & Wakefield completed the sale of River Ranch, 6152 W. Oakland Street in Chandler. Greystar GP II, LLC, an entity formed by Greystar, purchased the 188-unit multifamily community from PHX Oakland 2010, LLC, a company formed by Acacia Capital Corporation, for $32M. Jim Crews from the Cushman & Wakefield Phoenix office represented the seller.
4. Tides Equities LLC closed on The Arbors, a 197-unit apartment complex at 804 W. Arbor St. in Tempe, for $27.5M. Tides Equities bought the property, which is 94 percent occupied, from Western Wealth Capital.
5. CBRE arranged the sale of Clarendon Park, a Class A garden-style multifamily community at 222 W. Clarendon Avenue in Phoenix. The property was acquired by 3rd Ave Investments, for $23.85M from Rincon Partners. Tyler Anderson, Sean Cunningham, Asher Gunter and Matt Pesch with CBRE's Phoenix office represented the seller.
6. Velocity Retail Group's Brian Gast represented the buyer in the $8.3M investment sale of Mountain View Marketplace, 3131 E. Thunderbird Road in Phoenix. Fortis Development, LLC purchased the 172KSF center from Mountain View Shopping Plaza, L.P.
7. Cushman & Wakefield announced Phoenix-based Presson Corporation purchased the Van Buren Industrial Center, a 174KSF industrial complex at 34–74 N. 45th Avenue in Phoenix, for $6.6M. Bob Buckley, Tracy Cartledge and Steve Lindley of Cushman & Wakefield's Phoenix office negotiated the transaction on behalf of the seller, Black Equities.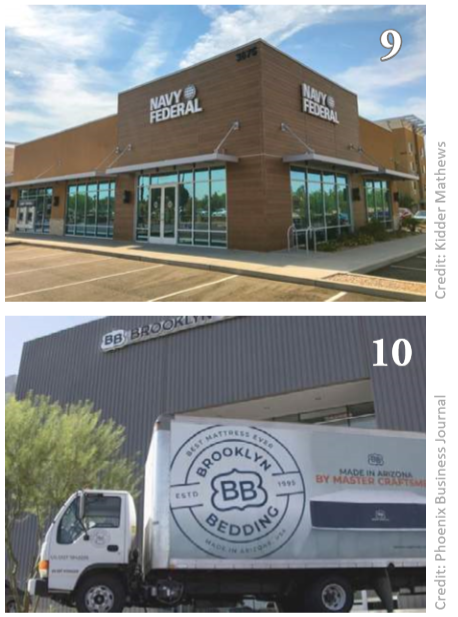 8. Gould Family Properties VIII, LLC purchased 69-units in five separate properties for a combined total of $3.724M. The sellers were various limited liability companies managed by James and Joan Johnston. The properties included 1620-1650 E Blacklidge Dr in Tucson with 24 units, 3801-3829 N Country Club Road with 16 units, 1802-1820 N Fomeus Ave. with 10 units, 3220 E Terra Alta Blvd. with 10 units, and 3501 N Country Club with nine units. Allen Mendelsberg with Cushman & Wakefield | Picor handled the transaction for buyer and seller.
9. Thompson Thrift Retail Group has sold a 3,700SF Navy Federal Credit Union, located at 3675 West Chandler Blvd in Chandler. The credit union was purchased by a family trust out of California for $2.48M in a 1031 exchange. Kidder Mathews commercial real estate brokers Darrell DeShaw, Trask Switzenberg and Chuck Wells represented Thompson Thrift Development in the transaction.
Lease Transactions
10. Brooklyn Bedding has signed a lease to take over a 150KSF space at 4455 W. Camelback Rd. in Phoenix to open a second manufacturing facility that is expected to double to company's production.
11. NAI Horizon negotiated a long-term lease for a 19.8KSF Planet Fitness at 8921 N. 7th St., in North Phoenix worth $2.16M. The NAI Horizon retail properties team of Chris Gerow, Shelby Tworek, Gabe Ortega and Patrick Anthon represented the tenant, United PF TOM LLC. The landlord, 7th Street & Townley LLC, was represented by Jason Hersker of Capital Asset Management.