Commercial Real Estate Transactions 12-11-2018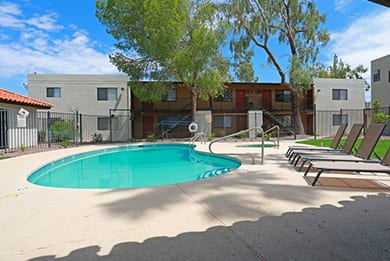 Sales Transactions

1. Greystar Real Estate Partners, LLC, announced the acquisition of the three-property, 845-unit Acacia portfolio on behalf of its real estate funds. Acacia Capital hired CBRE's team of Sean Cunningham and Tyler Anderson to sell two of the properties: the 316-unit Chandler Court at 3800 W. Chandler Blvd., in Chandler, and the 341-unit Vista Montana at 3225 E. Baseline Road, in Gilbert. Cushman & Wakefield's team led by Jim Crews brokered the third deal, the 186-unit River Ranch property at 6152 W. Oakland St., also in Chandler. Total consideration was reported at $149M.
2. A $92.5M industrial complex purchase is the latest addition to Prologis Inc.'s Arizona portfolio. The Prologis Westside Business Park in Tolleson includes four buildings totaling more than 1.1MSF. The sale was the largest multitenant industrial park sold in the market this year.
3. ABI Multifamily announced the $31.8M sale of Sanctuary on 22nd in Phoenix.  Built in 1985, Sanctuary on 22nd rests on approximately 10.14-acres. The buyer is a California-based investor. The seller is a California-based investment group. The team of Rue Bax and Doug Lazovick represented the seller.
4. Ascentris announced the purchase of Kierland Corporate Center II, a three-story, 82,000 square-foot Class A multi-tenant office property in North Scottsdale. The sale was brokered by Cushman & Wakefield's Private Client Group. Colton Trauter and Bill Blake from Lee & Associates will lease the property for Ascentris, and Arcadia will provide property management services.
5. Lennar Arizona Inc. successfully bid $22.575M, the minimum acceptable bid, for a 140-acre parcel of State Trust Land south of the southwest corner of Dove Valley Road and Paloma Parkway in Phoenix.
6. The Casa del Coronado Apartments, 201 West Blacklidge Drive, Tucson, sold for $11.2M.  The NorthMarq Multifamily team of Bill Hahn, Trevor Koskovich, and Jesse Hudson represented both the seller and the buyer. 201 W Blacklidge Dr, LLC was the buyer. Blacklidge Terrace Apartments – Tucson, LLC, an entity formed by Del Marco Capital of Arizona, was the seller.

7. Cresa announced Dial Manufacturing, Inc. purchased Papago Industrial Park. Pac Holdings II, LLC, an entity formed by ITC Manufacturing, sold the 192KSF industrial property, at 430 N. 47th Avenue, Phoenix, for $10.6M. Ted Liles, Chad Neppl and Ryan Burkett of Cresa's Phoenix office negotiated the transaction on behalf of the seller. Blake Hardison and Clint Hardison of Keyser represented the buyer.
8. HSL Properties recently acquired the Hampton Inn & Suites Tucson East/Williams Center, 251 S. Wilmot Road, for $8.2 M.
9. Beverly Holdings, LLC announced the purchase of Beverly Center, a 43KSF Class A single-tenant office property at 8181 S. 48th Street in Phoenix. The property was sold by Orsett Properties LLC for $6.75M. Eric Wichterman and Mike Coover of Cushman & Wakefield Phoenix, along with Rick Lee and Conner Lee from Lee & Associates brokered both sides of the deal.
10. Blandford Homes LLC was the winning bidder of a 40-acre parcel of vacant land in an auction by the Arizona State Land Department. The company paid $6.4M for the parcel, west of the SWC of McKellips and Hawes roads. The minimum bid was $5.34M.
11. Lakeside BP LLC purchased Lakeside Business Park at 7941-8051 East Lakeside in Tucson from Tesoro Enterprises, LLC for $3.875M ($58 PSF). The 66.7KSF business park in three buildings is zoned C-2 and was built in 1984 and expanded in 1990 on 4.47 acres.
12. Heslin Holdings, Inc. purchased the 36.8KSF former Babies "R" Us at 4619 N Oracle in Tucson for $3.4M ($92.48 PSF).  The property on 2.59 acres was sold by Wells Fargo Commercial Mortgage Service that bought it out of bankruptcy for $2,631,644.
13. The Walgreens Center at 8905 N. 7th St. in North Central Phoenix has been sold for $3.3M.  The redevelopment opportunity was purchased by Capital Development Group and its partner Rhapsody Ventures of Phoenix. John Jackson and Larry Ortega of Colliers International in Greater Phoenix negotiated the sale transaction of the center.  The seller was the Manson Family Trust.
14. Greystar Real Estate Partners announced the acquisition of the 349-unit Crescent Highland on behalf of its real estate funds. The asset is located at 4626 N. 16th Street, Phoenix.
Lease Transactions
15. Cushman & Wakefield has announced WellCare Health Plans, Inc. signed a 10-year, 81.3KSF lease at Two Gateway Center. The national health insurance tenant executed a long-term lease worth $23M will occupy three floors at 432 N. 44th Street Phoenix. The transaction was completed by Larry Downey and Brett Thompson of Cushman & Wakefield's Phoenix office and Dave Johnson and Liz Osborne of Cushman & Wakefield's Denver office. Jerry Roberts and Pat Boyle of Cushman & Wakefield's Phoenix office represented the landlord, Lowe Enterprises Inc.
16.  Cascade Financial Services signed a 52.6KSF lease at The Hub in Chandler. CBRE's Corey Hawley and Jimmy Cornish negotiated the lease on behalf of Clarius Partners.