Commercial Real Estate Transactions 12-03-19
Sales Transactions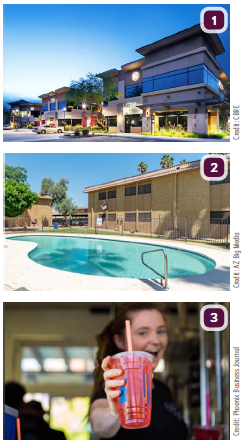 1. Forum at Gilbert, LLC purchased The Forum at Gilbert Ranch, a 92K+SF Class A office and medical campus at 1472,1482,1528 and 1530 E. Williams Field Rd and 2314 S. Val Vista Dr., Gilbert, for $20.5M. Geoff Turbow, Matt Pourcho, Anthony DeLorenzo, Gary Stache, Bryan Johnson and Doug Mack of CBRE Investment Properties – SoCal/Phoenix represented the seller, EverWest Real Estate Investors. Jeff Stein and Jeff Harris of CBRE Debt & Structured Finance in Houston arranged the financing for the buyer.
2. BCH 3001LP purchased Bellum Manor, a 214-unit apartment located near the I-17 freeway and Thomas Ave in Phoenix, for $19.8M. The NorthMarq Phoenix investment sales team of Trevor Koskovich, Bill Hahn and Jesse Hudson represented both the seller, Maesag Properties LLC, an entity formed by Shon Brown of Phoenix, and the buyer.
Closures
3. Dutch Bros announced Monday that it will close its embattled coffee shop near Central Avenue and Camelback Road in central Phoenix on Dec. 28.