Commercial Real Estate Transactions 08-06-2019
Sales Transactions

1. TruAmerica Multifamily has acquired Covington Park, a 520-unit garden-style apartment community in Phoenix for $77.26M. Tyler Anderson, Asher Gunter, Sean Cunningham and Matt Pesch from CBRE's Arizona office marketed the properties on behalf of the undisclosed seller.
2. CBRE Global Investors acquired a 191KSF data center at 2500 W. Frye Road, Chandler, for $72.75M. The seller was Lincoln Rackhouse, the data center division of Lincoln Property Co. CBRE brokers Kristina Metzger and James McCarthy helped broker the deal.
3. JLL Income Property Trust, an institutionally managed daily NAV REIT announced the $72M acquisition of Summit at San Marcos, a newly developed 273-unit award-winning urban garden-style Class A apartment community in Chandler.
4. Bluerock Real Estate, LLC purchased Denim Scottsdale, a 644-unit multifamily community at 7791 E. Osborn Road, Scottsdale. CBRE's Tyler Anderson, Sean Cunningham, Asher Gunter and Matt Pesch of Phoenix Multifamily Institutional Properties represented the seller, TruAmerica Multifamily. The sales price was not disclosed.
5. In June, BH Properties purchased the 120KSF Class A building called Northsight Financial Center, located at 14500 N. Northsight in Scottsdale, for $23.8M from Invesco. Barry Gabel, Chris Marchildon and Will Mast of CBRE handled the transaction.
6. Strategic Office Partners, owned by TPG Real Estate Partners, recently purchased a 97.5KSF office property at 2045 E. Innovation Circle, in Tempe's Arizona State University Research Park that serves as Amkor Technology's corporate headquarters. Barry Gabel, Chris Marchildon and Will Mast of CBRE in Phoenix represented the seller, Founder's Properties, LLC.
7. A joint venture between Holualoa Companies and Epic Real Estate Partners recently purchased Scottsdale North Marketplace, a 68.5KSF retail center at Scottsdale Road and Lone Mountain Road, for $16M. Newmark Knight Frank's Capital Markets group represented the seller, Value Rock Investment Partners.
8. CapRock Partners announced it closed escrow on a 226.4KSF Class A industrial property – known as Papago Distribution Center – located at 1010 N. 47th Avenue, Phoenix. CapRock, along with an institutional client advised by CenterSquare Investment Management, purchased the property from a global asset manager for $15.83M. Brokers Bo Mills and Mark Detmer at Jones Lang LaSalle represented CapRock.
9. Glenwood Development Company, LLC purchased the 97 percent leased Willow Creek Village, a 165.1KSF shopping center anchored by Safeway at 1042-1048 Willow Creek Road, Prescott, for $13.1M. Hanley Investment Group Executive Vice President Kevin Fryman, President Edward Hanley and Vice President Lee Csenar represented the seller, Columbus Pacific Properties. The buyer was self-represented.

10. Next Gen Black Canyon, LLC, an entity controlled by Helix Properties, recently purchased Black Canyon Commerce Park, a three-building, 181.6KSF multi-tenant office park at 2101, 2133 and 2225 W. Peoria Avenue, Phoenix, for $10.75M. Barry Gabel, Chris Marchildon and Will Mast of CBRE in Phoenix represented the seller, Granite Black Canyon Holdings, LLC in the transaction.
11. On July 26, The Phoenix Suns – under the name Suns Legacy Properties LLC – have purchased 2.4 acres of an office development in Phoenix's Arcadia neighborhood for $10.372M. The Suns purchased the land from Phoenix-based Red Development.
12. On behalf of Wentworth Property Company LLC, the Phoenix office of JLL has completed a $9.94M sale of a new build-to-suit office/flex building at 2228 W. Guadalupe Road, Gilbert. The 34.1KSF building is fully occupied by Moog Inc. JLL Executive Vice Presidents Brian Ackerman and Steve Sayre represented Wentworth Property Company. Ian Hackett from Hackett Real Estate Solutions represented the tenant. The buyer is a private trust.
13. ABI Multifamily announced the $2.6M sale of Capri, a 13-unit garden-style, condo-mapped community at 6847 E. 4th Street, Scottsdale. ABI Multifamily's Royce Munroe represented both the buyer, an Arizona real estate developer, and the seller, a 30-year veteran multifamily investor.
14. Yasunari Yamada and Michiko Yamada, represented by Kevin Chin, Managing Director for SVN Pacific Commercial Advisors, recently purchased a 2.4KSF Starbucks at The Crossing at Sahuarita shopping center, 18729 S. Nogales Highway, Sahuarita, for $2.2M. Velocity Retail Group's Eli Castronova, Darren Pitts and Dave Cheatham represented FAE Holdings 461354R, LLC, a Utah Limited Liability company of Wadsworth Development Group and Accelerated Development Services.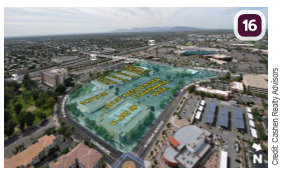 15. S1K, LLC, purchased the 19.2KSF Orange Grove Village Shopping Center, located at the NWC of Oracle and Orange Grove Roads in Tucson, from 4-D Properties for an undisclosed price. Craig Finfrock of Commercial Retail Advisors, LLC represented both the seller and buyer.
Lease Transactions
16. Cashen Realty Advisors announced the completion of a 56KSF office space lease with Harmony Medical Care at the 200KSF Mesa Fiesta Corporate Park located at 1357 and 1361 S. Alma School Road in Mesa. Harmony has entered into a 17-year Lease with Property Owner, HV & Canal, LLC.
17. CrossDocking and Warehouse Systems, Inc. leased 35KSF of industrial space in Las Palmas, 2050 Smokey Lane in Nogales., from Nogales Property Management. Jose Dabdoub, Industrial Specialist with Cushman & Wakefield | PICOR, represented the tenant.
18. Yada Yada, LLC leased 14.5KSF of industrial space, located at 1861 W. Grant Road., Suite 105 in Tucson, from Walker Tucson Property, LLC. Robert C. Glaser, SIOR, CCIM, Principal and Industrial Specialist with Cushman & Wakefield | PICOR, handled the transaction.
19. VeriFone, Inc. leased 13.2KSF of office space at 5151 E. Broadway Boulevard., Suite 900 in Tucson, from Tucson 5151 Investments, LLC.  Richard M. Kleiner, MBA, and Thomas J. Nieman, Principals and Office Specialists with Cushman & Wakefield | PICOR, represented the landlord. David Montijo with CBRE, represented the tenant.