Commercial Real Estate Transactions 06-11-2019
Sales Transactions

1. Virtú Investments sold the 194-unit La Costa at Dobson Ranch at 1820 W Linder Ave, Mesa, for $33.8M to a California-based private investor. Berkadia Commercial Mortgage secured a $22.2M Freddie Mac acquisition loan for the new owner, set to mature in 2026.
2. CBRE negotiated the sale of four Phoenix multifamily communities totaling $12.8M. Brian Smuckler, Jeff Seaman, Derek Smigiel and Bryson Fricke represented the buyer and seller in all four of the following transactions:
400 On Pasadena, a 28-unit contemporary boutique apartment community in Central Phoenix, sold to Wildwood Hills Home Community Trust for $4.25M. The seller was Clear Sky Capital Partner IX, LLC.
Level on 17th, a 29-unit single-story community at 6725 N 17th Ave, Phoenix, sold to Mid-Century Apartments for $4.15M. The seller was Level on 17th, LLC.
Cosmo, a 16-unit apartment community at 6542 N. 17th Ave., Phoenix, sold for $2.3M to Mid-Century Apartments. Investapath Group, LLC was the seller.
Sunshine 12, a 12-unit apartment community located at 2737 E. Glenrosa, Phoenix sold for $2.1M to Flow Investments, LLC. The seller was Revival Midtown LLLP.
3. Two Phoenix retail properties were sold for a combined $6.155M. Gilles R. Roy and Angele Roy purchased a 14.5KSF multi-tenant building at 1928 W. Buckeye Rd, consisting of an O'Reilly Auto Parts and Rent-A-Center, for $2.986M, while Oak Sapling Partners, LLC purchased The Pet Club at 3545 E. Indian School Rd for $3.168M. Cushman & Wakefield completed the sale on behalf of SimonCRE.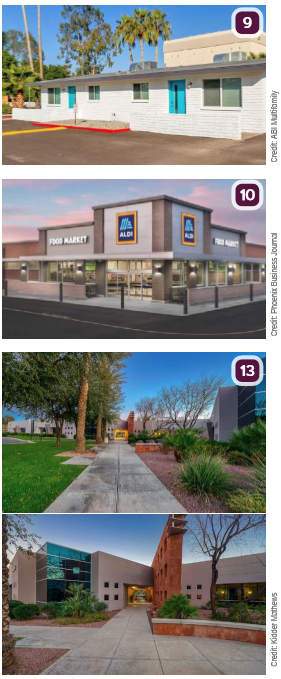 4. GEdR Union on 6th, LLC recently closed on an assemblage of 1.4 acres at the SWC of Sixth St and Fourth Ave in Tucson for $5.5M, in order to develop Union on 6th, a 165-unit multifamily and 7KSF commercial development. Tony Reed with Long Realty in Tucson represented the buyer. Phil Lipman with Bright Properties of Tucson represented the sellers, Four Emeralds / Flycatcher and Honeybadger Happenings, LLC and Tigre Properties I, LLC.
5. ABI Multifamily's Dallin Hammond, Mitchell Drake and Ryan Smith represented a California-based private investment team in the $5.35M purchase of The Retro on 32nd Street, a 62-unit garden-style apartment community at 3025 N. 32nd St., Phoenix. The seller, also based in California, is a private investment and management firm.
6. Phoenix Commercial Advisors facilitated the sale of The Corner at Arrowhead on behalf of the seller, Diversified Partners. The two-tenant retail pad, located on 1.38 acres at 7280 W. Bell Rd, Glendale., sold for $3.77M.
7. HSH-Chandler Owner AZ LLC nabbed 7.5 acres at S. Arizona Ave and Queen Creek Rd in Chandler for $3.3M with plans to develop Cadence at Carino Commons, a full-service senior housing project. Colliers International's Tim Dulany represented the buyer and Larry Ortega, also with Colliers International negotiated on behalf of the seller, Carino Commons Investors LLC.
8. Presson Corporation purchased 29th Street Business Plaza, a 72.2KSF industrial property located at 4901-5069 E. 29th St. in Tucson. The property was purchased from Dybvig Pima County, LLC for $3.075M. Robert C. Glaser, SIOR, CCIM, Principal and Industrial Specialist with Cushman & Wakefield | PICOR, represented the buyer in this transaction. Jonathan Jump with Jump Ventures, Inc., represented the seller.
9. ABI Multifamily's Dallin Hammond, Mitchell Drake and Ryan Smith represented an Arizona-based private investment company in the $2.7M sale of Sir John's Apartments, a 14-unit garden-style apartment community at 3141 N. 37th St., Phoenix. The Buyer is a private investor based in California.
10. German retailer Aldi Inc. has spent $2.25M to buy land near Lake Pleasant Pkwy and Happy Valley Rd in Peoria from Thompson Thrift Retail Group for one of its grocery stores.
Lease Transactions
11. NAI Horizon's Jeff Adams represented the landlord, AZIZ, LLC, in a 39-month retail lease for 32KSF at 460 S. Country Club Dr., Mesa. Ashley Kendricks with The Maricopa Real Estate Company represented the tenant, House of Rhema Full Gospel Baptist Church.
12. NAI Horizon's Kevin Higgins, Lane Neville and Logan Crum represented the landlord, Crismon Superstition Development, LLC, in a 120-month lease for 13.2KSF at 10165 E. Hampton Ave., Mesa. Alex Wentis with CBRE, represented the tenant, Studio R Ballet.
13. The Phoenix Kidder Mathews Healthcare Team represented the landlord, Phoenix Heart, in an 11KSF, 7-year lease for Hopebridge Autism Therapy Centers, a national firm that provides autism therapy for families and children at 5859 W. Talavi Blvd., in Glendale. Kyle Seeger of JLL represented Hopebridge.