Commercial Real Estate Transactions 06-04-2019
Sales Transactions

1. Sansome Pacific joint venture recently completed the sale-leaseback transaction for 11 Cabela's locations for $324M, in what is believed to be the largest transaction brokered by a digital platform, B+E, to date. Founders of B+E, Camille Renshaw and Scott Scurich, have a background in both traditional real estate brokerage and tech before founding B+E in 2017.
2. Strategic Office Partners, a wholly owned subsidiary of TPG Real Estate Partners, purchased the 117KSF single-tenant fully leased One Chandler Corporate Center from Van Trust Real Estate LLC. CBRE brokers Barry Gabel, Chris Marchildon and Will Mast represented the seller. The purchase price was not disclosed and Allstate Insurance is the single tenant of the two-story newly completed facility located at 350 N McClintock Dr. in Chandler.
3. Drawbridge Realty has purchased the 100 percent leased Desert Canyon 300 office building located at 2411 W Peoria Ave. in Phoenix. The purchase price was not disclosed. Cushman & Wakefield brokers Steve Lindley, Bob Buckley and Tracy Cartledge negotiated the sale on behalf of the seller, Bridge Investment Group.
4. Western Wealth Capital has acquired The Artisan, a 198-unit apartment complex located at 9350 N 67th Ave. in Glendale, for $22.6M. The complex was built in 1984 and currently boasts a 98.5 percent occupancy rate. California Capital Real Estate Advisors purchased the lender REO property in 2014 for $9M. JLL facilitated a $15.1M Fannie Mae loan for the new owner.
5. A subsidiary of Hammes Co. has purchased the Arizona Spine & Joint Hospital, located at the NEC of Greenfield Rd. and Baseline, in Mesa, for $20.3M. The 33KSF facility was built in 2005 and the hospital operations and management were not affected by the real estate transaction.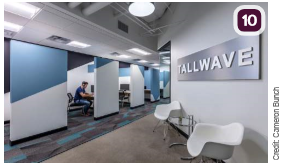 6. SRS Real Estate Partners' Investment Properties Group has completed the $13.8M sale of El Super Shopping Center, a 59.4KSF retail property located at 2211 W. Camelback Rd in Phoenix. The center was built in 2017 and is 100 percent occupied by 11 tenants including anchor tenant El Super, Subway, and a number of other neighborhood retailers. The unidentified buyer was a west-coast private investor.
7. As reported in BREW, Mattamy homes has recently acquired 127 acres in Avondale for the construction of 607 lots at the purchase price of $10.1M. The community will be named Roosevelt Park.
8. Landsea Homes is in the process of purchasing two combined projects at Town & Country Place in Phoenix. The two projects, located at 14th St. and Ocotillo, have a combined count of 54 lots and marks the company's third project in AZ since announcing their entrance into the market in 2018.
9. The Starbucks located at 3001 N Swan Rd. in Tucson has sold for $2.1M to the Wong Family Limited Partnership. Steve Grimm and Juan Pantoja with Grimm Commercial represented the seller, ADG Swan, an affiliate of Aspen Development Group, and Jeramy Price of Volk Company represented the investor in the triple-net investment deal.
Lease Transactions
10. Tallwave has leased 16KSF for their new downtown Scottsdale headquarters located at 4110 N. Scottsdale Rd. Justin Himelstein, TSC Vice President negotiated the transaction on behalf of the tenant.