Commercial Real Estate News 06-05-18

Sales Transactions
1. CBRE has brokered the $75.1M sale of Galleria Palms, a 424-unit, garden-style multifamily community in Tempe, Arizona. Tyler Anderson, Sean Cunningham, Asher Gunter and Matt Pesch with CBRE Multifamily Institutional Properties in Phoenix represented the seller, an institutional investor on behalf of a separate fund client. The buyer was a joint venture between TruAmerica Multifamily and funds managed by Oaktree Capital Management, L.P.
2. Maracay Homes is paying $44.1M for 160.39 acres of land at the NWC of Chandler Heights and Val Vista Roads in Gilbert, with plans to develop a master-planned community that will include 332 homes surrounded by streams and lakes. So far, the company has closed on 40 acres with expectations to close on the rest of the land by October.
3. Emma Capital Investments Inc. ("Emma Capital") has announced the acquisition of Zazu Apartments, a 184–unit garden style multifamily apartment community located at 1502 East Osborn Road in Phoenix, for $22.25M. This is Emma Capital's 31st purchase in the United States and brings its total acquisitions to date to approximately 7,800 apartment units in seven different markets.
4. A joint venture between New York-based Dalan Management and Arizona-based VM Management has purchased Seventeen 805, a 138-unit apartment complex at 17805 N. 40th St in Phoenix, for $16.78M. ABI Multifamily brokerage team of Rue Bax, Alon Shnitzer, John Kobierski, Eddie Chang and Doug Lazovick represented the buyer and seller, FPA Multifamily LLC, in the transaction.
5. CBRE has arranged the $13.5M sale of Regency Park, a 104-unit garden-style apartment community located at 6333 N. 12th Street, just north of Bethany Home Rd. Portland-based Regency Park Associates, LLC acquired the value-add property with new financing and plans to reposition the property. Brian Smuckler, Jeff Seaman and Derek Smigiel with CBRE Phoenix represented both the buyer and the seller in the transaction.
6. Cushman & Wakefield announced that 1355 South Clearview Avenue in Mesa, was purchased by Christianson Holdings LLLP of Fargo, North Dakota from Larch Street Capital Management of Vancouver, British Columbia and Scottsdale-based Attis Investments for $8.8M. Steve Lindley, Tracy Cartledge, and Bob Buckley of Cushman & Wakefield Phoenix negotiated the transaction on behalf of the seller. Property Resource Group of Fargo, North Dakota represented the buyer.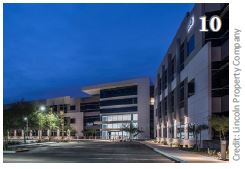 7. The Canadian parent company of Circle K, Couche-Tard closed on five Tucson locations last week for $5.16M in a bulk sale, or an average sales price of $1.1M. The locations are: 8395 N Thornydale Road, 10410 N La Canada Dr., 2088 W Orange Grove Road, 4685 E Valencia Road, 920 E 22nd Street.
8. AV Homes of Arizona LLC paid $4.93M for 18.8 acres in the Southeast Valley. AV plans to construct 43 homes on the parcel at Gilbert and Ocotillo roads. Brian Rosella of Cushman and Wakefield of Arizona represented the seller.
9. Phoenix Commercial Advisors closed on celebrity chef Scott Conant's Mora Italian, Wednesday, May 16. The property, located at 5651 N. 7th Street in Phoenix, sold for $4.681M, or $780 per square foot. Chad Tiedeman at Phoenix Commercial Advisors represented the seller, 7th Street/Montebello, LLC, in the transaction.
Lease Transactions
10. Engineering consulting firm EPS Group, Inc. has completed a long-term lease that will move the company from its current location near Baseline Road and Arizona Avenue in Mesa, into 27,283SF at Waypoint Four, a 152KSF, Class A office building at 1130 N. Alma School Rd. and the latest addition to the Harvard Investments and Lincoln Property Company development.