Commercial Real Estate News 03-27-18
Sales Transactions
1. CBRE negotiated the $54M sale of Tuscany Ridge, a 336-unit Class A multifamily community, in Peoria. Tyler Anderson, Sean Cunningham, Asher Gunter and Matt Pesch with CBRE Multifamily Institutional Properties in Phoenix represented the seller, a New York City-based pension fund advisor. The buyer is a JV partnership between Gerry Ranglas/RV Management, Wermers Properties and Loma Linda University Endowment. Mike Dow of Impact Multifamily Advisors negotiated the deal on behalf of the buyers. PCCP, LCC provided the financing.
2. Cushman & Wakefield represented Clear Sky Timberline LP, an entity formed by Clear Sky Capital in the bulk sale of 102 units within Timberline Place Condominiums in Flagstaff. Timberline Place Apartments, LLC, a partnership formed by Edgehill Investments and The Tanbic Company purchased the units for $18.6M. Steven Nicoluzakis and David Fogler of Cushman & Wakefield Phoenix represented the seller.
3. DPC Companies has purchased 7 Thousand Shea, a 145KSF mixed-use development in Scottsdale for $16M. Andrew Harrison of ORION Investment Real Estate represented the buyer. Chris King and Justin Lutgen managed the acquisition on behalf of DPC. Ari Spiro, Sean Stutzman and Jared Williams of ORION Investment Real Estate represented the seller, Younan Properties.
4. ABI Multifamily announced the $10.55M sale of the Orange Tree Village Apartments in Tucson. The seller is a private investor and original developer of the property. The buyer, an entity formed through Alpha Wave Investors, LLC, is a private investment company. Alon Shnitze of ABI Multifamily was lead broker for the buyer. Jon Ibrahim, also with ABI was lead broker for the seller.
5. NAI Horizon represented the seller in the $6.3M sale of a flex building that will be converted into a music venue at 8445 E. Hartford Dr. NAI Horizon's Troy Giammarco and Tyler Smith represented C.R.C. Investments LLC, in the sale of the 30KSF building.
6. Lennar Arizona, Inc. paid $4.25M cash to acquire a portion of Sunset Farms, a planned community in west Phoenix. Included in the sale were 177 final platted and engineered lots. The seller on the transaction was New World Properties, Inc., a Phoenix/Tucson investment group. Lennar's representatives are Jeff Gunderson and Erik Molina. Chris Benjamin and Rick Jellies of City to City Commercial Real Estate represented the seller.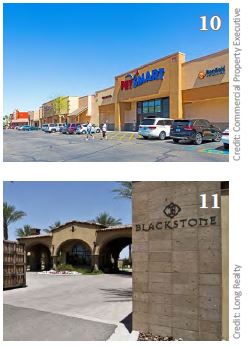 7. CRE Avondale-Mirage Owner, LLC, dba, Virtua Land Acquisition Fund has purchased 22 acres at the NWC of Indian School & El Mirage Roads for $3.1M. The sellers were RP Palm Valley LLC (16.2 acres) and DECI, LLC (6.2 acres). Richard Arambula and Dan Krantz of City to City Commercial Real Estate worked on behalf of both sellers. Cathy Cheshier of Property Dimensions and George Quinif of Peak Group LLC worked on behalf of the buyer.
8. NAI Horizon's Rick Foss and Tom Bean represented the buyer and the seller, respectively, in the $2.675M acquisition of a 12.4KSF contractor's facility at 10646 E. Pecos Rd., in Mesa. The buyer was YBL LLC. The seller was DMW Properties LLC.
9. A recently opened 1.9KSF Starbucks on the SEC of Seventh Avenue and Roosevelt Street in Phoenix sold for $2.5M. The property was purchased by Douglas Parking, LLC. Lee & Associates represented the buyer. Chad Tiedeman at Phoenix Commercial Advisors represented the seller, William Rodriquez. Lance Umble at Phoenix Commercial Advisors leased the space to Starbucks.
10. Brixton Capital has bought Palmilla Center, a 103.6KSF grocery-anchored shopping center at 1555 North Dysart Road in Avondale. The sale also included the Chase Bank and Arizona Federal Credit Union buildings. HFF's Bryan Ley represented the seller, Weingarten Realty Investors, while Brixton Capital represented itself. No price was listed.
11. David Weekley Homes has purchased a total of 65 home sites among the final two remaining parcels in the private gated golf course community of Blackstone at Vistancia. This transaction brings David Weekley Homes' total lots inside the community to 310 home sites of the projected 650 total lots. No price was listed.
Lease Transactions
12. The Phoenix office of JLL has completed two lease agreements with two national credit tenants, bringing Phase I of Skyway Commons in Surprise to 25 percent pre-leased just as the building is delivered to market. The activity also pushes plans for Phase II into active pre-construction. The Phase I lease deals – by Hajoca plumbing supply company (10KSF) and RideNow Powersports (15.6KSF) – were initiated months before project completion. JLL's Riley Gilbert, Anthony Lydon and John Lydon represented the building owner, Silagi Development & Management, in the transactions.