Commercial Real Estate News 03-06-18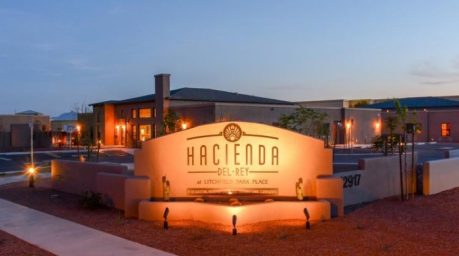 Sales Transactions
1. A 92.6KSF Class A office building in Scottsdale that serves as a PayPal operations center has sold for $30.5M. Rob Edwards and Tom Ethington with Pinnacle Real Estate Advisors brokered the deal. The buyer was Buchtel Realty Investors. The seller is listed as RM Mountain View LLLP.
2. Hunt Mortgage Group has provided a first mortgage bridge loan for $30.5M to finance the acquisition and renovation of 240-unit, garden-style Mountain Park Apartments in Phoenix. The loan sponsor is KB Development.
3. MIG Real Estate has acquired Trails at Harris, a 216-unit apartment community in Mesa, Ariz. Western Wealth Capital divested the asset, which held a price tag of $22.1M. Berkadia originated a $14.6M, 10-year, permanent Freddie Mac loan on behalf of MIG for the acquisition of the apartment community.
4. Lee & Associates Arizona announced the sale of the 118KSF Talavi Towne Center for $21.9M. Jan Fincham and Patrick Dempsey facilitated the transaction on behalf of the seller, Kimco Towne Center, LLC, and the buyer, Talavi Bell, LLC.
5. Burl Holdings,LLC sold the 125KSF+ property occupied by B/E Aerospace in Tucson's Eastside Research / Commerce Center to an investor from Anchorage, AK for $13.2M.
6. Berkadia announced the sale of Dusk, a 41-unit multifamily property in Scottsdale for $11.6M. Mark Forrester, Ric Holway and Dan Cheyne of the Berkadia Phoenix office exclusively listed the property and completed the sale for the seller, 3130 Hayden Partners, LLC. The buyer, Dusk Hayden, LLC acquired the property.
7. Berkadia announced the sale of Canyon Palms, a 143-unit multifamily apartment building situated just west of Interstate 17-Black Canyon Freeway for $6.2M. Darrell Moffitt, Ric Holway and Dan Cheyne of Berkadia's Phoenix office completed the sale on behalf of the seller, Monte Vista Gardens.
The buyer was Canyon Palms Enterprises.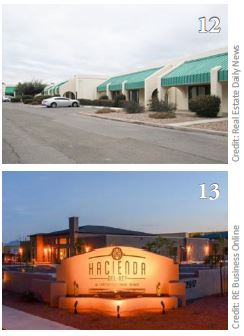 8. Christian Family Care has purchased a 22KSF office building at 2346 N. Central Ave. for $3.3M. Greg Hopley of Colliers International in Greater Phoenix represented Christian Family Care in the purchase transaction. The landlord, Deco 2346 Central, LLP, was represented by Cushman & Wakefield.
9. Phoenix Commercial Advisors announced the sale of Signature Salon Studios. The property, located on 1.81 acres on the NWC of Higley Road and Southern Avenue in Mesa sold for $2.75M. Chad Tiedeman at Phoenix Commercial Advisors represented the seller, SSL-MESA, LLC, in this transaction. Daniel Park at Park Industrial Realty represented the buyer, Hyun Joon Lim.
10. Marcus & Millichap announced the sale of Ambassador and Tropicana, a 23-unit and 14-unit property portfolio located in Tucson, according to Ryan Sarbinoff, regional manager of the firm's Phoenix and Tucson offices. The assets sold for $2.6M.
11. ABI Multifamily announced the $2.4M sale of The Sycamore Cove Apartments at 2458 N Sycamore Blvd. in Tucson. The buyer is a private California-based family partnership. The Seller, an entity formed through Alpha Wave Investors, LLC, is a private investment company.
12. Westgrant Centre, LP sold the WestGrant industrial/office center at 1955 West Grant Road in Tucson for $2.3M to WestGrant Investors, LLC (Brandon Rodgers). Ron Zimmerman with Cushman & Wakefield | Picor represented the seller in the transaction and Brandon Rodgers with Cushman & Wakefield | Picor was self-represented.
13. Blueprint Healthcare Real Estate Advisors has arranged the sale of Hacienda Del Rey, a 90-unit assisted living and memory care community in Litchfield Park. Blueprint's Jacob Gehl, Amy Sitzman and Giancarlo Riso led the transaction. The price was not disclosed.
Lease Transactions
14. Painting materials manufacturer Premier has expanded their footprint to Phoenix, relocating the operations from Portland. The new location in Phoenix is a 40KSF building near Buckeye Road and 35th Avenue and will serve as a products distribution center.
15. Tyler Smith of NAI Horizon represented the landlord, Meridian West Rose Garden, LLC in a 65-month medical office lease for 10.6KSF at 20950 N. 29th Ave., and 2925 West Rose Garden Lane, Phoenix. Mari Lederman with CBRE represented the tenant, Cancer Treatment Center of America Professional Corporation of Arizona, P.C.