This AZBEX exclusive report includes analysis of five-years worth of procurements for the public K-12 school market, analyzing them for trends, distribution of contracts and more.
Also included is an analysis of cooperative purchasing and the use of sole source and Job Order Contracts (JOC), as well as a historic look at districts with major bond issues.  Interviews with key persons in the market round out the in depth special report.
If you play in the Arizona K-12 market this report is a must-have!
Topics discussed in this report include:
Total advertised opportunities from 1/1/13 to 6/30/17
All active procurements, filtered down to major projects valued at $1M construction costs or higher
Most active districts advertising A/E/C opportunities
Top Design & General Contracting firms in the K-12 public schools market sector
Updates from School Districts with Approved Bond Measures
Your purchase of the K-12 Special Report includes a print copy of the report.
$499 – The K-12 Special Report is now available! Purchase your copy today!
---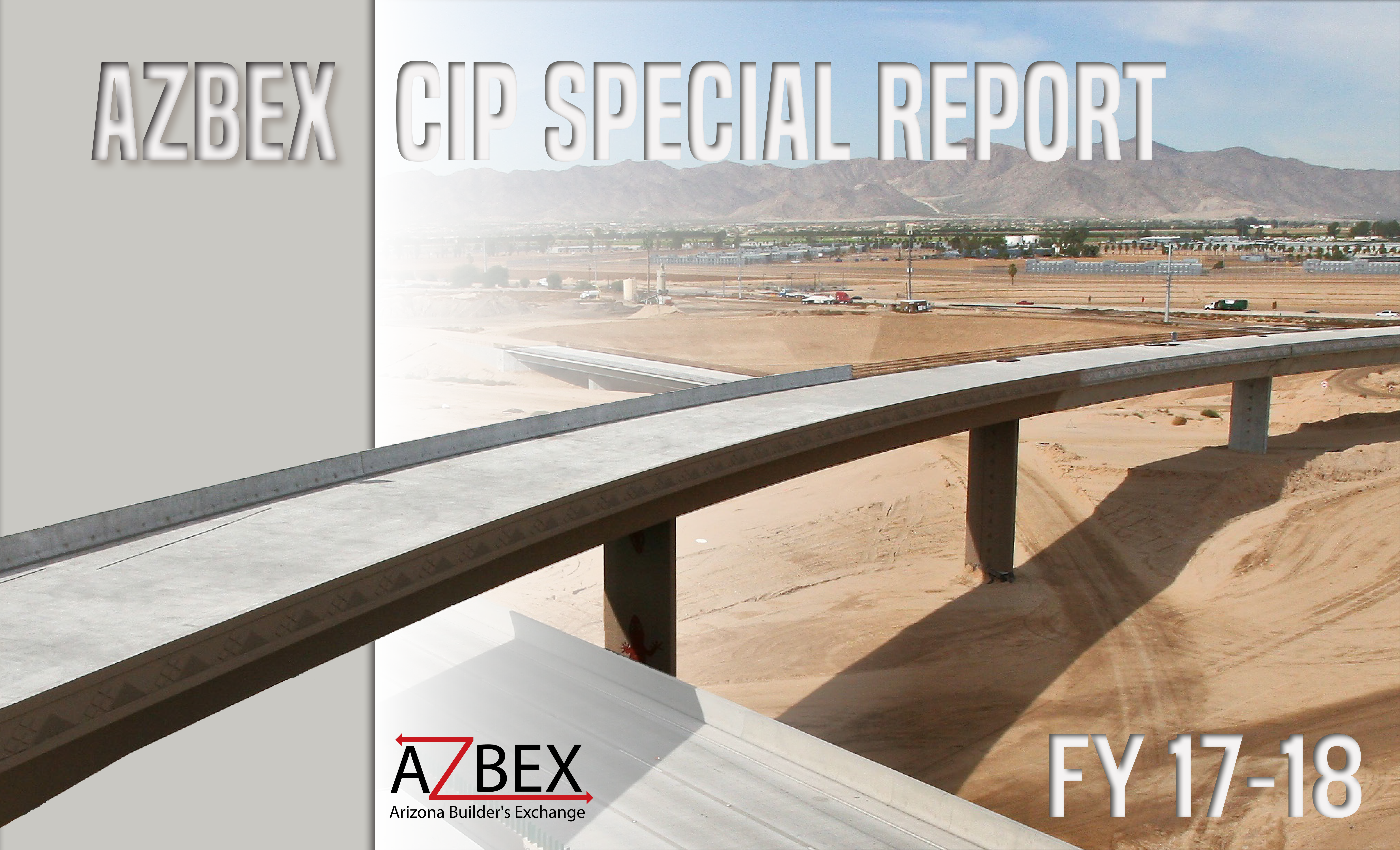 Click image above to see sample of the FY16-17 CIP Special Report
The FY17-18 CIP is now available. Order your copy today!
This is the 6th year AZBEX has tracked CIPs.
AZBEX staff starts tracking CIPs in the draft stages in March, publishing articles about major programs as they move through the approval process.
This year, we've not only picked up major projects from the planning documents of more than 25 agencies, but we've included the department contacts. Additionally, the CIP "books" are highlighted and saved for your researching pleasure.
In addition to the print copy of the report, we've included digital copies of our project spreadsheet with additional notes and details, as well as the highlighted CIP "Books" from each agency covered in our report.
$299 – Order your copy today!
---
COMBO – PURCHASE BOTH REPORTS AT A DISCOUNTED PRICE! 
$599 – Save $200 on the combo purchase!