Arizona Projects 12-06-19
Groundbreakings

1. Sigma Contracting, Inc. broke ground on the iconic Papago Plaza in Scottsdale for up to 88KSF in new retail and office buildings and a 120KSF parking garage. Sigma's portion of the project is valued at $11M-$16M and will consist of the complete demolition of the original Papago Plaza. The architect of record is Nelsen Partners. Notable subcontractors include Atwell Demolition (building and site demolition) and Coreslab (precast for the parking garage).
2. Capstone Development Partners announced a new student housing project under development with Arizona State University on its Polytechnic campus. The $34.2M project is scheduled to be completed fall of 2020. Shepley Bulfinch was the architect and CORE Construction is the general contractor.
3. Lucid Motors started construction of its electric vehicle manufacturing facility in Casa Grande. The first phase of factory construction, representing an investment of over $300M, is scheduled for completion in late 2020.
4. A+ Charter Schools hosted its groundbreaking ceremony on Wednesday, Dec. 4 ,at 10 a.m. for their inaugural campus in Maricopa. Phase One of the project will feature a two-story, 24KSF space on seven acres.
5. Core Construction has set a guaranteed maximum price for the Cherokee Elementary School rebuild project and it is trending lower than staff originally anticipated. The Scottsdale Unified School District Governing Board unanimously approved a GMP of $23M. The first phases will run from Dec. 9 to July 17, 2020. The second phase will officially run from Aug. 1, 2020 to Jan. 31, 2021. The third and final phase will run from Feb. 1, 2021 until March 19, 2021.
6. The $11.7M, 25KSF Care 1st Avondale Resource Center broke ground December 2nd. ‍Construction is supported by Abacus Project Management, Architekton and Haydon Building Corp. The center is scheduled to be complete end of 2020.
7. A paving and guardrail project on the US 60 between Superior and Top-of-the-World began December 2nd. Paving is scheduled to begin after the guardrail work is complete in spring 2020. The entire project is scheduled to wrap up by late summer 2020.
8. City of Goodyear recently broke ground on a new Water Treatment Facility that will carry surface water to the city for the first time. The facility, which is scheduled to be completed in late 2021, allows Goodyear to access its Colorado River water allocation and will be able to treat 8 million gallons of water per day.
9. Payson Public Library's 2KSF expansion has broken ground. The general contractor, 1st Priority Builders, will see the project to completion.
10. Phase one of the Meridian Road project broke ground Tuesday. The project will extend Meridian from Cherrywood to Combs, providing an important north-south connector for Queen Creek and the region. The interim road is anticipated to be complete in early summer 2020.
11. Bellago Development LLC, under its Bellago Homes banner, is beginning construction on 22 homes in San Tan Valley.
12. The Central Arizona Project Salt River Siphon Repair Design-Build project began this month. Achen-Gardner Construction crews were responsible for planning the dewatering of more than 25 million gallons of water contained in the siphon and are developing and maintaining safe access and conditions within the pipe during work operations.
Progress Reports

13. McCarthy Building Companies recently celebrated the topping out of Mirabella at ASU, a $167M, 20-story Life Plan Community being built on the campus of Arizona State University in Tempe. The topping-out ceremony marks the placement of the final beam atop the 613K+SF tower and celebrates the achievement of this milestone. Major subcontractors include Buesing Corp., Castle Contracting LLC, Delta Diversified Enterprises Inc., IMCOR (Interstate Mechanical Corporation) and KT Fabrication Inc., Berg, E&K and Schuff Steel. Completion of the project is scheduled for August 2020.
14. The Arizona Department of Transportation announced the new Loop 202 extension around South Mountain would be completed by the end of the year.
15. Achen-Gardner crews are exposing and repairing segments of 78" prestressed concrete cylinder pipe as part of the Link Pipeline Repair and Mitigation Design-Build project for the Ak-Chin Indian Community. Phase 1 was completed in December 2018 and included the repair of more than 300 LF of 78" pipe. Phase 2 is under construction is expected to be completed this month and includes the repair of more than 500 LF of 78" pipe.
16. Achen-Gardner recently installed four 60" manholes on the PVC-Lined Concrete Sewer Pipe and Manholes Rehabilitation – North CMAR. GMP 1 includes the rehabilitation of 12K LF of PVC-lined concrete sewer pipe (30" to 48" using cured-in-place-pipe and six manholes (60"), and the installation of 10 new manholes (48" and 60"). The project is expected to be completed in October 2020.
Completions
17. Luna Azul, a new 4.5-acre, gated single-family home community, offering a new approach to independent living for adults with disabilities, recently celebrated its grand opening and the move-in of the community's first residents. Construction of the second phase of 16 new homes is expected to begin in early 2020, with completion of the full development slated for fall 2020.
18. ADOT has finished the final striping on the SR 347, Maricopa-Casa Grande Highway and other nearby roads, which recently received improvements from the new highway overpass project.
19. Festival Fields Park recently completed a $19M renovation on the 30-acre expansion.
20. Ottawa University unveiled its $21M, 96K+SF athletic facility. Cawley Architects is the design firm behind the Ottawa University Athletic Facility for Indoor and Outdoor Athletics. Other team members on the project include Haydon Building Corp., general contractor; Dibble Engineering, civil; Pearson Engineering, electrical; MDI Engineering, mechanical and plumbing; CTS Engineering, structural; and TJ McQueen, landscape architect.
21. ADOT will open a new MVD facility in the former Harkins Theatres building at 1959 S. Woodlands Village Blvd. on Monday, December 23.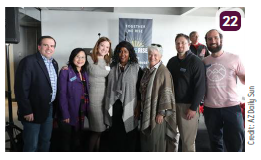 22. Flagstaff Shelter Services is back in full operation at its Huntington Drive facility, with twice the capacity for individuals experiencing homelessness. The expansion was funded primarily by a Community Development Block Grant, the Arizona Diamondbacks Foundation, LGR Foundation, Del E Webb Foundation, Coconino Board of Supervisors and the Don Nierling Memorial Fund.
23. Choice Hotels International, Inc. announced the opening of Cambria Hotel Downtown Phoenix Convention Center. The seven-story, 127-room property is the company's third hotel under the Cambria brand in Arizona.