Arizona Projects 10-18-19
Awards & Accolades

1. Achen-Gardener Construction's Commonwealth Canal Promenade has won the Grand Award and the Best Small Project Under $2.5M Award from ACEC Arizona.
Groundbreakings
2. FWD Partners, LLC broke ground on a 52KSF medical office project called Auviana, located at 14753 W. Mountain View Blvd, Surprise. Dan Astle with Edifice is the architect and Regency Plastic Surgery is the developer.
3. The Town of Marana broke ground on the Honea Heights Neighborhood Park, 12500 N. White Ave. The $400K park, designed by McGann & Associates, includes a 2KSF area with a 40-by-50-foot shade structure, as well as 2,500 square feet of turf, swings, a ramada and a half-court basketball court. Construction is expected to be complete by early 2020.
4. Civic and business leaders broke ground Wednesday on the Sahuarita Advanced Manufacturing and Technology Center (SAMTEC), a $4.2M, 32KSF building near the SEC of West Sahuarita Road and South La Cañada Drive. The project is expected to be completed by early next summer.
5. Groundbreaking on the $67M, 30-acre Goodyear Recreation Campus at Estrella Pkwy and Goodyear Blvd North, took place Oct. 1. What should be one of the most exciting public parks in the West Valley is not scheduled to be open for play until the summer of 2021. Hunter Contracting is the general contractor.
6. The Ryan Companies US Inc. and Liv Communities have started construction on LivGenerations Mayo Blvd, a new 285.2KSF luxury senior living community near the Mayo Clinic. The project is scheduled to deliver in 2021. Todd & Associates is the architect.
7. Evergreen Devco, Inc. has begun construction on a pair of single-tenant retail buildings that will house a Black Rock Coffee Bar and a Wilhelm Automotive on the SEC of 35th Ave and Greenway Rd in Phoenix. Vertical Design Studios is designing the Black Rock Coffee Bar location and RKAA Architects, Inc. is designing Wilhelm Automotive. American Retail Contractors, LLC, is the general contractor building both.
Progress Reports
8. More than 60 dignitaries, executives and guests gathered for a topping off ceremony at the new six-story, 160KSF 777 Tower at Novus office building within the Novus Innovation Corridor in Tempe on October 16th. The building is under construction by national developer and builder Ryan Companies US, Inc. and is expected to be complete by July 2020.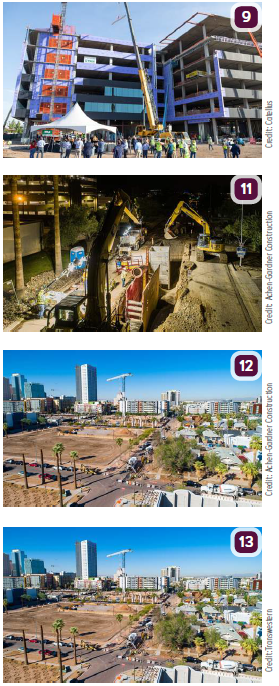 9. With the concrete foundation now complete, the new emergency room and patient tower at Banner Boswell Medical Center is finally beginning to take shape. Last week, general contractor McCarthy Building Companies began placing the load-bearing steel girders that will provide the structural framework for the $106M project. Topping out is expected to happen in mid-January.
10. Achen-Gardner Construction is installing new sewer lines in the City of Tempe as part of their Sewer Capacity Improvements CMAR project. This multi-phased (two GMPs) project includes construction of new sewer lines to address an over-capacity situation and to provide reserve capacity for future needs. Construction is expected to be complete by February 2020.
11. Achen-Gardner Construction is installing more than 2,300 LF of water line (8" and 12") on Roosevelt Street in Downtown Phoenix as part of their Right of Way On-Call Water Main Replacement JOC project. Construction is expected to be complete in December 2021.
Completions
12. Transwestern Commercial Services (TCS) has completed the renovation of the 9KSF former Morton's The Steakhouse space at the Esplanade, 2501 E. Camelback Rd, Suite 1 in Phoenix. The new space is home to Transwestern's Arizona headquarters.
13. Construction is wrapping up on a new 13KSF Ranger Station just west of the old building on SR 260 in Payson. The new $5M building should be open to the public by the end of October. Marsh Development was the general contractor.