Arizona Projects 09-20-19
Groundbreakings

1. A block party and groundbreaking ceremony will be held on October 7th to celebrate the beginning of construction on Thunderbird School of Global Management's $75M, state-of-the-art global headquarters facility on Arizona State University's Downtown Phoenix campus. Jones Studio, Inc. is the architect and Okland Construction is the general contractor. Construction is expected to be complete in 2021.
2. Creighton University will mark its commitment to expanding health education in Phoenix with a ceremonial groundbreaking of the nearly $100M, 180KSF home of its new Health Sciences – Phoenix Campus at Park Central, 3100 N. Central Avenue, on September 25th. Actual construction on the building began in July and is expected to be complete by 2021.
3. Construction of the voter-approved Waddell Road Improvement Project is underway. The Waddell Road project will complete the north and south half of Waddell from the east limit of Loop 303 to Reems Road by increasing the number of travel lanes and adding a traffic signal at the Sarival Avenue and Waddell intersection. The road improvement project is scheduled to be complete by next summer. PK Architects and ESG Architects are the design firms for the project.
Progress Reports
4. Mortenson took a significant step in the construction process for the Hyatt Place / Hyatt House Tempe Downtown hotel as they celebrated the topping out of the building earlier this month. Construction of the dual-branded hotel is on schedule and is the first building in the Novus Innovation Corridor to reach this noteworthy milestone. Construction will be completed in Summer 2020.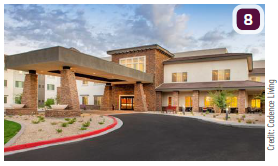 5. Hines announced it plans to complete construction on an 83.1KSF Class A CubeSmart storage facility at the NEC of Priest Drive and Warner Road, Tempe, early this fall, and also announced plans to break ground next month on another, 96KSF facility at the SEC of Camelback and Dysart Road, Litchfield Park. Construction on that facility is expected to be complete at the end of 2019. RKAA is the architect for both facilities and Double AA Builders is the general contractor for the Tempe facility.
6. The Giovale Open Deck Observatory broke ground September 29th, 2018 in Flagstaff and is now receiving its final touches, including the installation of its exterior nameplate. The project is expected to be complete next month.
7. The Tuxon, an independent boutique hotel alongside I-10 in historic West Downtown Tucson, is expected to complete construction in winter 2019 with additional amenities coming online summer 2020.
Completions
8. Cadence Living and Ryan Companies US announced the grand opening of Acoya Mesa, a new 170-unit, 183KSF senior living community located on nearly seven acres at 6502 E. Brown Road, across from Granite Reef Park. Ryan Companies, co-owner and co-developer of Acoya Mesa, served as the general contractor and architect.