Arizona Projects 08-23-19
Awards & Accolades

1. Las Brisas Sunset Apartments, a 60-unit complex in San Luis for low-income seniors, has earned a statewide honor for the housing organization that developed it. The Comite de Bienestar on Wednesday received a Hero of Housing award by the Arizona Department of Housing. The award was given in the Exceptional Rural Multi-Family Project category during the state agency's housing forum in Scottsdale.
Groundbreakings
2. Balsz School District with McCarthy Building Companies and DLR Group announced the beginning of construction on Balsz School District's Pat Tillman Middle School, 4309 E. Belleview, Phoenix. The middle school will include construction of a nearly 70KSF building with 42 new classrooms, administrative offices, STEM learning flex space and two new laboratories. Final construction completion is slated for October 2020.
3. Sundt Construction, Inc. recently began work on the Maricopa Integrated Health System (MIHS) North and South Metro Ambulatory Clinics. Construction will consist of new, single-story 26KSF buildings on the 3-acre sites. The North clinic will be located on the SWC of 19th Avenue and Northern Avenue, and the South clinic will be on the NWC of 35th Avenue and Southern Avenue.
4. The Phoenix Water Services Department will begin construction on a water main on Foothills Drive within the town. The improvements will include a new permanent underground line, lateral connections, fire hydrants, and upgrades to three booster pump stations. Construction is anticipated to take approximately nine months to complete.
5. The City of Maricopa just issued the building permit for Wyndham Hotels & Resorts' first hotel in city limits. The new $10M La Quinta aims to be operational in 2020 and will be located on Martin Luther King Jr. Boulevard adjacent to Copper Sky.
6. The Harkins Theatres at the Tucson Spectrum Shopping Center, 5455 S. Calle Santa Cruz, is getting several upgrades. Construction for the theater's remodel has already started. Upgrades include new seating, a CINÉ1 large format auditorium with reclining seats, audio upgrades and a large video wall entry feature, laser projection and lobby updates. About half of the auditoriums are expected to be complete in time for the holidays.
7. Fayth Hospitality Group will break ground August 27th on the six-story, 76-room Hampton Inn and a 123-room Home2 Suites at South Stone Avenue between Ochoa and Corral Streets. It is expected to open in early 2021.
8. Banner Health has approved a $17.5M project at Banner Thunderbird Medical Center in Glendale that will create a new 40-bed patient care unit for patients requiring advanced heart monitoring. Construction is scheduled to begin this week. Smithgroup is the architect and J.E. Dunn Construction has been chosen as the general contractor. When completed around summer 2020, Banner Thunderbird will have 595 licensed beds.
9. Caliber-The Wealth Development Company has closed a deal as the property owner and developer of a 62.6KSF behavioral health hospital near 14th Street and McDowell Road, Phoenix. Caliber has begun Initial site demolition and will complete $9.5M in renovations by 2020. The 96-bed facility will be occupied by Medical Behavioral Hospital of Phoenix LLC.
Progress Reports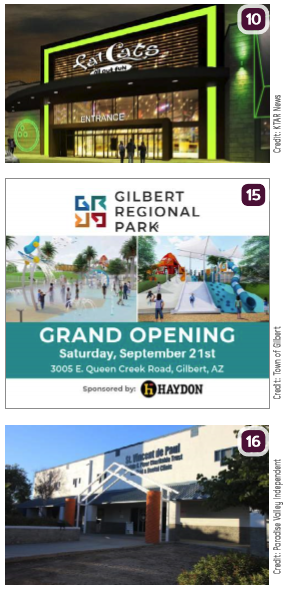 10. In January, FatCats broke ground on a new 64KSF complex off Recker Road south of the Loop 202 Red Mountain Freeway in northeast Mesa and is targeting a November opening. In addition to eight movie screens and 20 bowling lanes, the development will have an arcade, glow-in-the-dark mini golf, a party room and virtual reality activities. There will be a restaurant and bar, as well.
11. Downtown Tempe Streetcar infrastructure construction on Mill Avenue between University Drive and Rio Salado Parkway comes to a wrap this week, and Tempe's famed Mill Avenue re‐opens to traffic in both directions. The entire Tempe Streetcar project is on schedule for completion in 2021 with three miles of track, 14 stops and two connections to Valley Metro Rail.
Completions
12. Iron Mountain Incorporated (IRM) recently announced the opening of a second enterprise-class data-center facility, AZP-2. This initial phase offers four megawatts of simultaneously maintainable power capacity. At full build out, the three-story facility will encompass more than 530KSF and offer 48 megawatts of total IT capacity.
13. Yuma Elementary School District One completed construction on its newest school Dorothy Hall Elementary and opened the doors to students on August 5th.
14. TPI has been awarded the Arizona State University Hayden Library project. Construction started in 2017 with a completion slated for fall 2019. The renovation of Hayden Library will result in a more welcoming, inspiring, and engaging place to be.
15. The Town of Gilbert is hosting a grand opening celebration of Gilbert Regional Park on September 21st at 3005 E. Queen Creek Road. The event is sponsored by Haydon Building Corp and will mark the unveiling of Phase 1A of the park, which includes a 17-foot iconic playground (The Mountain), a splash pad with 57 different water features (The Falls) and a tot playground for the park's smallest visitors (The Creek).
16. The Society of St. Vincent de Paul renovated and expanded the Virginia G. Piper Medical & Dental Clinic on its main campus and unveiled the newly finished project Thursday, August 8th. The redesigned space – the second phase of a $16M capital project – features a bright interior, new flooring, fresh paint and twice as many patient care spaces to allow SVdP's charity clinic to not only serve more patients, but provide them with high-quality health care in a state-of-the-art facility.