Arizona Projects 08-09-19
Awards & Accolades

1. As Nikola Motor Company draws closer to developing a 1MSF plant in Coolidge, the hydrogen electric semi-truck manufacturer is gaining accolades. The most recent recognition by Area Development Magazine ranks the Nikola plan among five "Projects of the Year" for 2019.
Groundbreakings
2. Harkins Theatres has started construction on a new $32M, 65KSF headquarters at McDonald Drive near the Loop101 in Scottsdale that will also include mixed-use space for a variety of retail tenants. Construction is expected to be complete in summer 2020.
3. 2438 N. Palo Verde Avenue LLC, developers of the former Motel 6 at 960 S. Freeway in Tucson have received building permits from the city for a $5M upgrade to the 112-room, 29KSF hotel to be named The Tuxon. Construction is expected to be completed by the end of the year.
4. Pegasus Group Holdings broke ground Tuesday on its $3B renewable-energy data center in Golden Valley. Pegasus Group Holdings, in partnership with Plus Minus power, has nicknamed the solar field "The Hive," which will occupy 717 acres south of Kingman on Interstate 40.
Progress Reports
5. MainSpring Capital Group & Palmer Development of Scottsdale have completed construction of Phase I of The Block at Pima Center located on the NWC of Via De Ventura and the 101. The first phase is 100 percent pre-leased and includes 14KSF of shop space and three free-standing pads in various stages of development.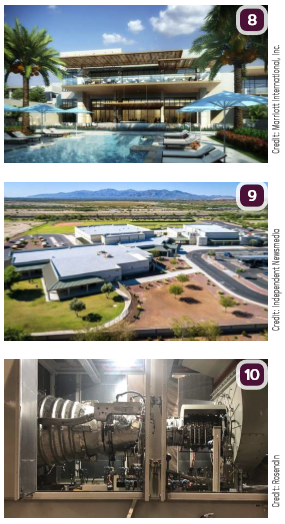 6. SOHO Scottsdale, 16510 N. 92nd Street, the city's first zoned live/work community launches its Phase 2 pre-sales of 10 contemporary townhomes within the community. Scottsdale-based real estate development firm Catclar Investments announced the recent launch of Phase 2 since Phase 1 with lofts and condo/townhomes is 50 percent sold out.
7. Tolleson Union High School District completed construction on Phase I of West Point High School, a 3,000-student high school at west Encanto Boulevard and north Avondale Boulevard. Phase II is currently under construction. ADM Group and Energy Systems Design are the architects and Chasse Building Team is the general contractor.
8. The Ritz-Carlton Hotel Company L.L.C. has announced the expansion of its Arizona presence with the expected summer 2020 opening of The Ritz-Carlton, Paradise Valley. Vertical construction is well underway for the centerpiece of the $2B, 122-acre master-planned community of The Palmeraie.
Completions
9. Dysart Unified School District opened its new school, Asante Prep, 23251 N. 166th Drive, Surprise, on August 6th.
10. Rosendin recently completed work with McCarthy Building Companies, Sun Devil Energy LLC, Cleanway Energy, and R.G. Vanderwell Engineers on an essential $13M expansion and upgrade to Arizona State University's Combined Heating and Power Facility. The project effectively doubles the available electrical power for the ASU research community microgrid, while also doubling the steam capacity used for heating by both the research community and the Tempe campus distribution network.