Arizona Projects 06-01-2018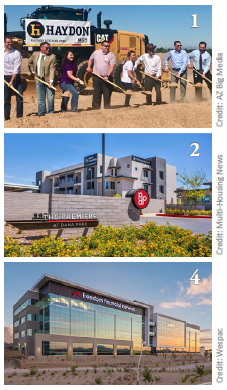 Groundbreakings
1. Phase 1 of Gilbert's still-unnamed 272-acre regional park has broken ground. The park runs along the west side of Higley Road and stretches southward from Queen Creek Road to the south of Ocotillo Road.
Completions
2. PCS Development recently completed The Premiere at Dana Park, a 198-unit multifamily community in Mesa. The company has tapped P.B. Bell as management firm for the property. Tofel Dent Construction was the general contractor.
3. Westgate Village, 8847 W. Glendale Ave., was recently completed and has opened. The senior living facility has 129 units and could have up to 220 residents on site when it is completely sold out, with studio, one- and two-bedroom apartments from 435SF to 1,040SF in size.
4. Freedom Financial Phase I completed construction in April. It is part of a 40-acre, 300KSF development project at the intersection of Loop 202 and Loop 101 in Tempe. Phase I is a new, build-to-suit, 4-story building that features steel construction, glass curtain wall and a unique 298KSF parking garage. The interior features an open office space including meeting and training areas, with an executive boardroom and offices on the top floor. The tenant improvement also features amenities such as galleries and eating nooks on each floor; providing a modern, comfortable environment for its staff. Wespac partnered with Boyer Rio 2100 LC, along with architecture firms Butler Design Group on the shell and Corgan Architects on the TI to complete this project.