90-Unit Affordable Sr Housing Dev Planned in PHX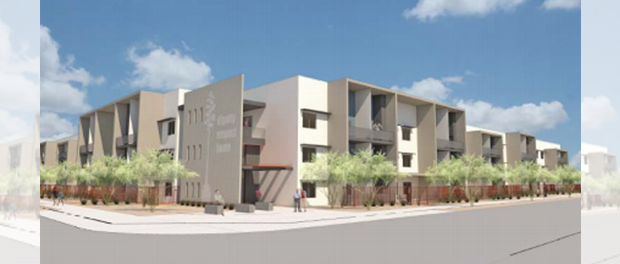 By Jane Stewart for Arizona Builder's Exchange
UMOM New Day Centers wants to develop a five-acre parcel at the NEC of 7th Street and Southern Avenue into a new 90-unit affordable senior housing facility. The site is close to the future South Central Light Rail Extension, which runs along Central Ave.
The vacant parcel, which lies within the South Mountain Village, must have a height and density zoning waiver in order for the proposed three-story building to be developed. The applicant, Aday Graff PC, who is representing the owner, United Group, LLC, is requesting this waiver, "…to allow multifamily senior housing with a height waiver for up to 3 stories and 38 feet, and a density waiver for up to the R-3A zoning district standards."
At 93.4KSF, the single, L-shaped building – comprised of 63 one-bedroom and 27 two-bedroom units – fronts to both 7th Street and Southern Avenue with all parking located behind the building. The design includes an interior corridor that has community space and a leasing office located in the center. With the orientation of the building on the site, there would be two access points at either end of the building, one on the NWC of the site on 7th Street, and the other at the SEC of the site on Southern Avenue.
Design elements, "Include a variety of exterior colors and building materials, including stucco, masonry, glass, and metal. Additionally, the elevations depict multiple variations in the building façade achieved by the use of wing walls, balconies, window awnings, stairwells and pop-outs." Some hardscape features include "an enhanced landscaped setback that contains a multi-use trail."
Some of the stipulations from the December staff report dated included the perimeter fencing, "Be composed of 100 percent open view fencing to promote an open design and engagement with the streetscape." Another stipulation discussed the importance of the balconies as "providing eyes-on-the-street, engaging the pedestrian environment, and providing visual interest for the project."
According to the staff report, "The project is in close proximity to the planned South Central Avenue light rail extension which will offer transit opportunities for senior residents of the site who may have limited mobility."
The South Mountain Village Planning Committee approved the rezoning at their Jan. 9, 2018 meeting, and the planning commission concurred at their Feb, 1, 2018 meeting. The resolution adoption is set for the March 7, 2018 city council meeting.
NOTE: Paid subscribers receive additional project details in our twice-weekly PDF publication, including project stakeholder information and valuable project bidding leads. Find out more about AZBEX subscriptions or contact Rebekah Morris at rmorris@azbex.com or (480) 709-4190